As a parent you want your child to not only pass their examinations but also to thrive in school. School provides more than just an education, such as the opportunity to learn social skills to prepare them for adult relationships, sporting prowess and healthy physical activity, and even how to manage a budget. Nevertheless, academic achievement remains the key outcome for attending school. What can you do as a parent to improve your child's chances of successfully completing their studies? Read further for the most important ways you can help them.
A Balanced Lifestyle
Starting from school entry in reception, it is essential that children are taught how to achieve balance in their lives. As adults, they will continue to follow the guidelines you have taught them. Children and adults should not see work as their sole priority. Diet, health, exercise, relationships, hobbies, family, and a rich and meaningful life are also important.
Teach your children the value of a balanced lifestyle. The first way to do this is by setting the right example. Children will mimic what they see. If you are a workaholic and fail to make time for your family, you are setting them up to do the same as adults. This is a stressful way to live and definitely not in their best interests.
Starting with a healthy diet, let your children help to prepare their lunches for the next day and explain to them which choices are good ones and which are unhealthy. A packed lunch should contain carbohydrates, dairy, protein, fruit, and veggies to be balanced and cover the essential food groups. Look online for suggestions that provide variety every day.
Read More: 11 Strategies to Motivate Your Child to Learn
Encourage them to participate in sports and extracurricular activities by telling them that it is their choice, but they should pick at least one of each. Make sure you take an interest in what they have chosen and attend as many games as you can. Provide positive reinforcement and teach them the value of being a good sport, that playing is more important than winning. At the same time, inspire them to put their best efforts into everything that they do.
Teaching Children a Good Work Ethic
At the heart of a good work ethic is the dedication to showing up every day on time, honouring your commitments to do the work, and not stealing company time. This is another case where it is vital that you set the right example. If you take off time from your job, try to make up for it. While that is not always possible immediately, such as taking time off for a sick child, make a note of it and post it on your fridge. Only remove it when you have satisfied yourself that you have earned your salary fully. Once again, explain to your children why you are doing it.
You May Also Like: The Best 11 Useful Tips To Develop Communication Skills For Kids.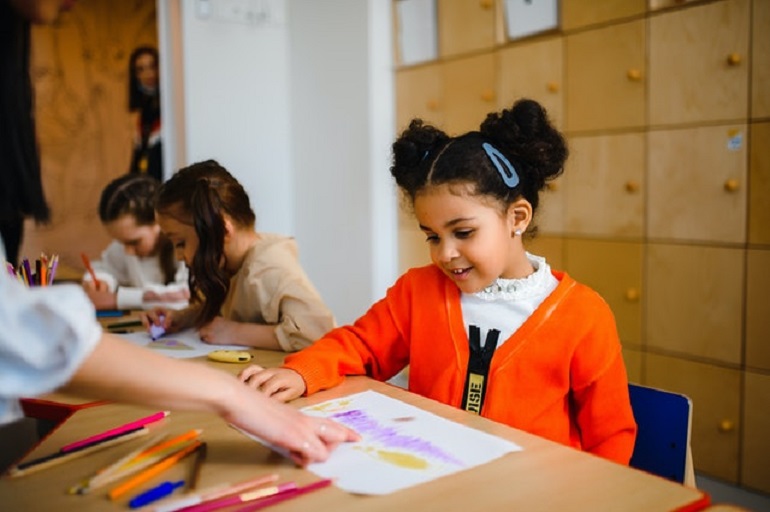 Teach children to have a set time for homework every day and to complete assignments on time. They will also learn planning skills in the process. Take an interest in their marks and spend the time to help them with difficult aspects. It is great if children are informed that it is positive to ask their teachers questions to make sure they fully understand a section of their work and can carry it out correctly. Let them see how you handle difficult tasks with patience, a questioning mind, and a commitment to delivering high-quality results.  Watching television or playing games should be limited and you should sit with them through programmes shown on channels like National Geographic so that they develop a questing mind. Last, but not least, children should learn to value good manners and know how to deal with conflict, aiming for win-win solutions.
Getting the Most Out of Education
Although a balanced, well-rounded person is the desired outcome, children should understand that the primary purpose of school is to get a good education. Make the connection between studies and a career that will enable them to spend their working lives doing something that they find meaningful instead of a string of low-level jobs. If they really want this, they will be prepared to put in the hours and hard work.
Get your child to make a calendar to keep track of tests, exams, sports, extracurricular activities, and special events. They should also include important family occasions. This is another way in which they acquire planning competencies.
Interesting: 10 EXCITING PRIMARY SCHOOL PROJECTS KIDS WILL LOVE EXPLORING.
Be on the lookout for signs of stress. Your child should enjoy school and not be feeling overwhelmed if they have the right attitude, a good work ethic, balance, and assistance when they cannot cope. Let them know that homework is not just more work but a way to practice their skills and perfect them.
Get extra assistance for your child to handle tests and exams with confidence. Students can perform better in examinations with the help of online study guides.
Making Sure Your Child Is Ready For Each Day
A nutritious breakfast will enable your children to perform without feeling that they are not up to the day. Ensure that they get enough sleep the night before. Bags should be packed and checked at night and clothes put out so that they are ready for the day. If their day starts off rushed and confused, it will affect them all day. They will be irritable and hyperactive and struggle to concentrate.
A homework desk should be organised and kept tidy. Show your child how to place work in the order it will be done and to allocate sufficient time for all their subjects. Make sure your child knows how to study. Children need to be familiar with the school rules and consequences for not abiding by them. More importantly, they should be taught why rules are necessary so that they develop healthy, productive, and compassionate values.
Sending your child out into the world with the right attitude and ethics will allow them to have realistic expectations of themselves. They will not feel punished when they have to work but see it as a normal part of life. The correct approach to anything minimises stress at the outset.
You May Also Like: