Roses are red; violets are blue, we're secretly jealous of Melania and so are you! Okay, not jealous "jealous." Let's call it a kind of diamond-ring envy. Melania Trump the 45th First Lady of the United States (FLOTUS) is one of those with the enviable title of owning one of the most expensive celebrity wedding rings globally. Though hers is not the most costly, you must be curious about why Melania Trump's Wedding ring is so famous? Well, that is what you are about to find out. So, grab a mug of hot chocolate, snuggle into your sofa and let's unravel this little mystery.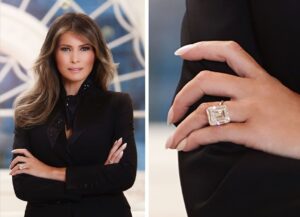 Starting from the beginning, when did Trump marry Melania? Melania caught the eye of Businessman and Billionaire Donald Trump at a party in September 1998, and they started dating in 1999. As at that time she was a successful model and had moved to the United States in 1996. Donald began to date Melania as he was concluding his second divorce. He would eventually propose to Melania in 2004.
Their wedding took place on 22nd January 2005. As you might have imagined, it had all the glitz and glamour befitting of someone marrying a billionaire. The wedding day was worth 14 pages in the influential and pizzazz Vogue magazine, an £80,000 Christian Dior gown and other expenses said to be in the region of £800,000 to £1 million (that's being conservative).
Let's dial back to the engagement part, that's where Melania's wedding ring makes a first appearance. What is Melania Trump's Wedding ring size? In terms of value, the size is probably not as important a determinant as the stone's weight, which is measured in carats. To learn more about diamond ring sizes, weights and values, check out Taylor & Harts article on choosing the right ones here.
As at the time of Melania's engagement with Donald, her ring was 15 carats. A D flawless emerald cut diamond ring. Some of us can only wish! Phew. As I was saying, Melania started with a 15-carat diamond ring in 2005. By 2015 she had received an upgrade to a 25-carat diamond ring to mark 10 years of marriage to her Billionaire and Real estate developer husband.
How much does Melania Trump's wedding ring cost? The easy answer is 'an eye-watering amount'. The not so easy answer is that many reported prices on the internet are not entirely in alignment and appear mostly speculative. The truth is, however, never far off because there is no smoke without a fire. Considering expert analysis (not mine), I would agree with news outlets and gossip columns that suggest the ring costs £2.3 Million. However, it's actual worth might be in the region of £3.25 million ($4.5million). MSN reports that both values of her rings are most likely in the area of a cool $9 million.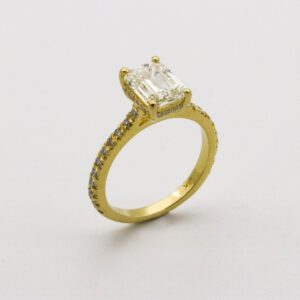 As noted earlier, Melania Trump's wedding ring is not the most expensive in the world. However, it sits in the lower ranks of the most expensive celebrity rings according to the Insider rankings here. The question remains – Why is Melania Trump's Wedding Ring so Famous? I would hazard a guess. If her ring is not the biggest, it's got nothing to do with the size. It's is one of the finest no doubt but not as expensive as Mariah Carey's which costs £7.6 million. If it's not the cut, the colour, shape, prize, or size, we are left with only one conclusion. Our interest is not in the ring! Our fascination must be in the enigma of Melania herself. Love her or hate her; she is a beautiful woman with a rich husband looking for happiness as much as either of us.
It is now cliché to say money can't buy you happiness even if the statement holds true. While we look on with admiration at those glittery diamond rings in catalogues and magazines, let's not lose focus on what true happiness looks like. True happiness is the loving and innocent hug of your child. It is the smile and warm embrace from your spouse. It is the heartfelt 'thank you' you get from a colleague or stranger in the street for an act of kindness. It is that warm feeling deep down inside when you've done good. The best part is that it didn't cost you a million dollars.
14587