The way we dress, accessorize, and how we style our hair are all expressions of our personality.
Choosing your nail polish is a fun way to further express yourself. However, there are so many options and ways to choose a nail polish shade you may wonder how to go about it.
Here, we'll explain how to match your nails with your skin tone and outfit to make just the right statement in the most flattering way.
How to Match Your Nails with Your Skin Tone
Figuring out what colors work best with your complexion is the first step in selecting the most flattering tones for you.
Determine Your Skin Undertones
Undertones help you find the right shade of any color for your complexion.
Yes, you may love red, but are blue-based reds best for you? Or should you go for a brick or fire engine red?
To figure out your undertone, first, check the veins on the inside of your wrists. Here's a breakdown of each undertone as it relates to your vein color.
Blue or purplish-looking veins are an indication of cooler undertones. Colors with hints of pink, red, and blue favor skin with cool undertones.
Both pastel colors and jewel tones look great on you! Want to try brown? Lean toward taupes.
And steer clear of colors with yellow, peachy undertones, they are not your friends if you have a cool undertone complexion.
Read more: Inspiring Stories of Nail Technicians and Their Creative Journeys.
Greenish-looking veins mean a warm undertone. Colors with yellow and peach undertones are best for warm undertone complexions.
Darker skin tones will benefit from colors with a hint of orange, gold, and honey. Lighter skin tones will do better with peachy or golden hues.
Salmon, mustard, teals, bright oranges, and light pinks look great with warm undertones.
Stay away from pink and blue-hued colors.
Colorless, or veins that match your skin color mean you have neutral undertones. If you find you have a neutral undertone, colors with warm and cool undertones may favor you.
As a general rule of thumb, you want to match cool undertones with cool colors and warm undertones with warm colors.
Go By Your Skin Tone
If you're going for an understated look and you are not really into experimenting, you can try matching your nail polish color to your skin tone.
That is, pale skin tone with pale color, medium skin tone with medium color, and dark skin tone with dark colors.
However, your skin undertone still plays a role in selecting the most flattering nail polish color for you since you could be medium-skinned with cool or warm undertones.
So whether you want to play it safe with neutral, understated colors, or you want to go with bold, fun colors, let's explore the different skin tones and their best color matches.
Fair-skinned ladies will want to stay away from dark nail colors as they will make their hands look too pale, leaving them looking more goth than glam – unless that's what you're going for!
If classy is what you're looking for, then opt for dark reds or plums to achieve the look without looking corpse-like. And keep the nail length shorter to avoid a spooky look.
If you're wanting to look a bit tan, choose metallic nail polish in shades of silver or gold, depending on your skin's undertone.
If you're fair-skinned but tend to tan in the summer, then you have some options. Choose a pale neutral in winter, a more intense color in spring and autumn, and a darker nude in the summer to complement your tan.
Colors with golden flecks or warm undertones look great on you if you are medium-skin-toned.
If you have difficulty finding the right shade for your skin color, warm undertones are typically a good way to go.
Purples and browns also tend to be flattering for medium skin tones.
Dark skin tones seem to have an endless array of choices as almost every color is flattering on dark skin colors.
If you're going for an understated or glamorous look, choose dark colors like midnight blues, purple, dark gray, or black.
Pale colors make a beautiful contrast on dark skin. And if you're going for fun, trendy, or exotic, bright colors are your answer.
Because olive skin tones have both neutral and warm undertones, it may be easier for you to find flattering nail polish colors.
Colors like burgundy, bright pink, blue, silver, and metallic are fun options for olive skin tones. Beige, black, navy, and emeralds can also be great choices.
Leaning more toward warmer colors? Go for it, just don't go too bright.
Matching Your Nails With Your Outfit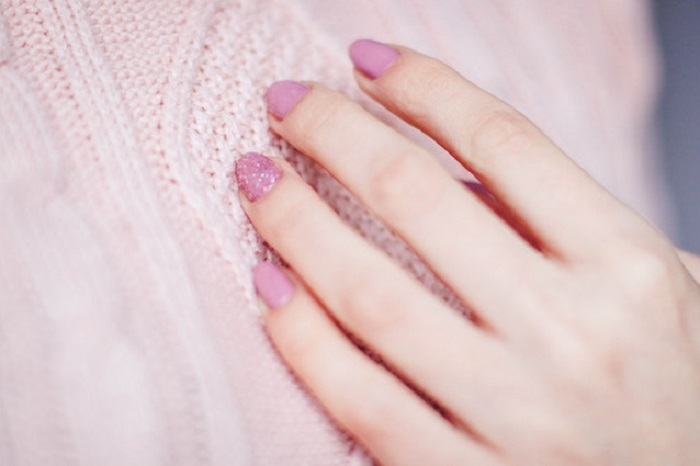 Once you figure out your skin undertone, you can start having fun with colors as you match your nails with your outfits.
There are several ways to match your nails with your outfits. Here are some suggestions.
Match the Outfit
Stick to the same color as your outfit or select a different shade of the same color for a little variety.
Versatile
If you're going for a versatile nail color that looks great with a variety of outfits, try a neutral color that complements your skin's undertone.
Grays, whites, beiges, light pinks, or peachy shades are good options. Reds can also accentuate your outfit.
A French manicure with white tips can be great for a timeless look. Or try different color tips if you feel a little adventurous.
Remember that changing-up your nail color and style every other day isn't great for your long-term nail health, since at-home removers can be very damaging. Instead, pick a neutral, versatile and have a professional nail tech do the job on your behalf. They know how to keep nails healthy, and used specialized tools such as nail drills from leading brands like Meteor Beauty that are designed to minimize damage, and promote stronger nail growth.
Match to Accessories
Wearing hot pink dangly earrings or a bright yellow, bubbly necklace? Why not match your nail polish to your bright accessories?
If you're wearing gold, then select a golden-hued nail color.
You can even do multicolored nails. Have fun and experiment!
Contrast Outfit
If you're going with a dark outfit, you can choose lighter colors for your nails as a contrast. Neutral colors in creamy shades can be a nice selection.
If you are wearing an outfit in lighter colors, you can go for moodier, darker shades.
The Takeaway
Once you figure out your skin undertone, you can feel more confident in selecting the colors that are most flattering to you.
Knowing how to match your nails with your skin tone and outfit will give you the freedom to experiment and have fun.