Designing your baby's nursery is one of the most exciting parts of planning for their arrival. However, with so many designs to choose from, deciding what you want it to look like can be a challenge. Many people go with the traditional route of pinks and blues, which can be nice but basic. If you want to design a space for your baby that goes beyond the ordinary into the extraordinary, check out these 20 modern nursery wallpaper ideas guaranteed to create a unique room you (and your baby) will love. 
20 Modern Nursery Wallpaper Ideas To Create A Unique Room For Your Baby
1. Minimalistic Rainbows Wallpaper For Nursery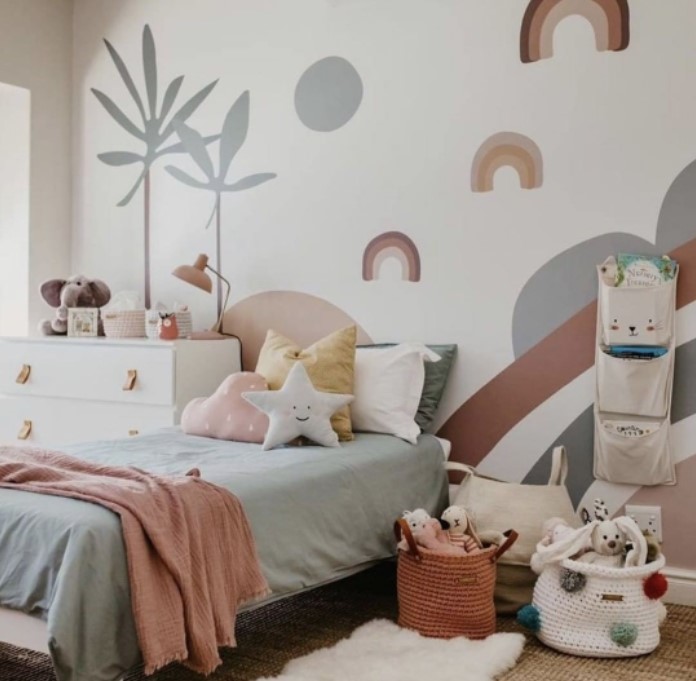 This rainbow wallpaper is your ideal match if you adore the minimalistic vibe. Add color and pattern to your nursery without making it feel busy, thanks to the muted colors and the bold yet subdued shapes. This print is a sweet addition to any nursery and helps the space feel fun, encouraging creativity and imagination. 
2. Chevron Nursery Wallpaper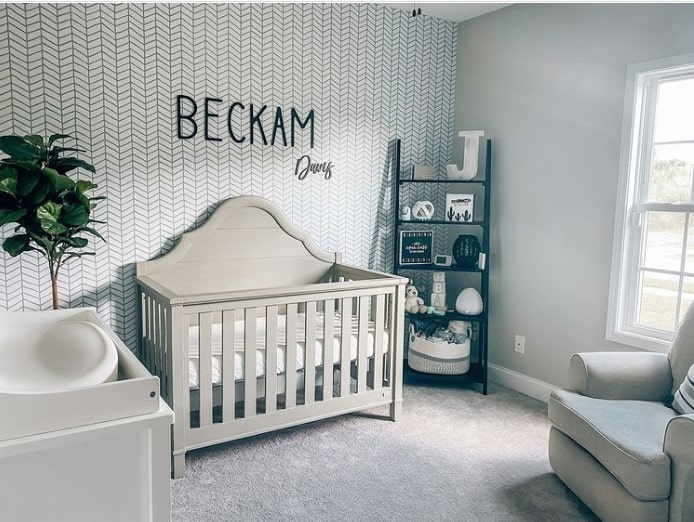 If you're more attracted to monotone colors, this chevron pattern is an excellent way to add interest without using multiple colors. This peel and stick wallpaper is excellent in either a boy or girl's nursery and will grow with them as they age. Because it's so busy, consider using it as an accent in the room instead of on all the walls, and use thoughtful pops of color through the decor to make the pattern pop. 
3. Soft And Muted Floral Cute Nursery Wallpaper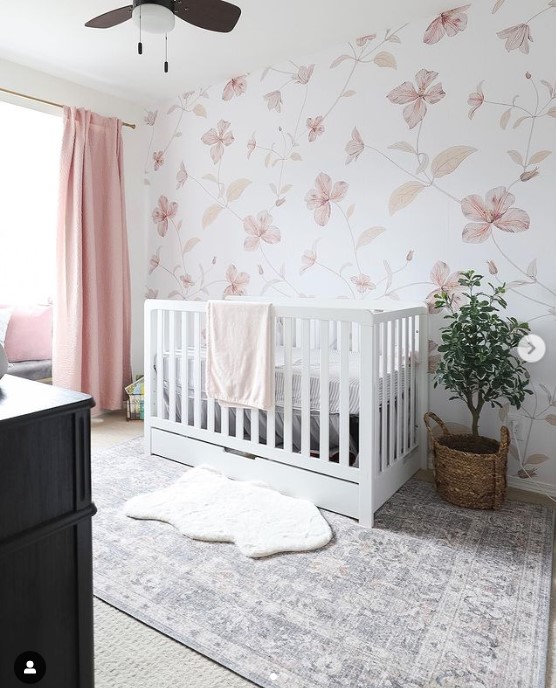 For a whimsical addition to any nursery, this soft floral pattern will have your little one dreaming of summer. The simplistic design brings the perfect touch of color with soft pinks and yellows and a dash of green. The floral pattern features a simple flower pattern that gives the room just enough color without feeling too busy. 
4. Bold Florals Modern nursery wallpaper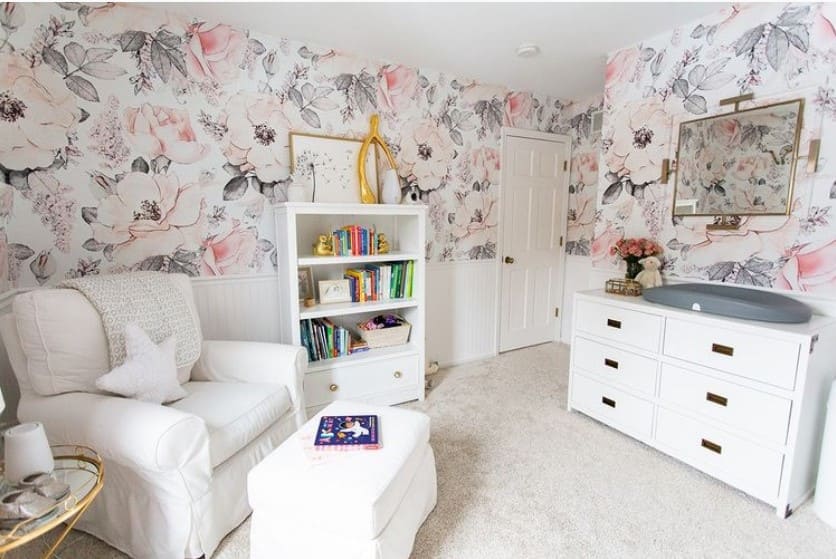 For a boho-chic feel to your baby's nursery, choose this adorable and simple FloralPlus design. With stunning bold, oversized roses in soft pinks, greens, and white, it's a simple way to add color easily, without worrying about messy paint. Depending on the decor you choose, you can either run with the whimsical theme or make it feel modern, making this wallpaper incredibly versatile. 
5. Stunning Floral Removable Nursery Wallpaper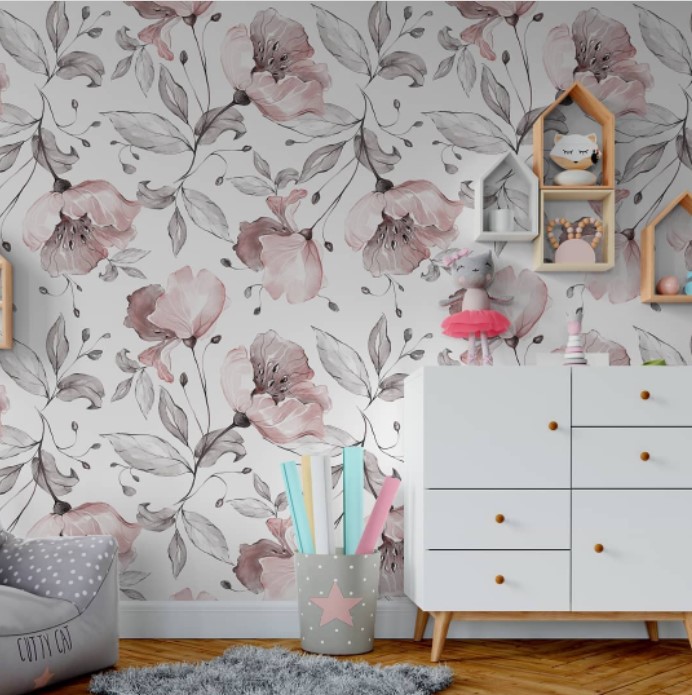 For bold florals that make a statement, you'll love the gorgeous design on this Genevieve floral wallpaper. With the look of watercolors giving it a subtle yet bold appearance, your baby's room with pop thanks to the pinks, greens, and blues. Even though it's a bold print, it would make an excellent statement wall with the crib in the foreground. To help keep the room from feeling too busy, opt for sheer drapes and minimalistic furniture. 
6. Green Dripping Rainbow Removable Nursery Wallpaper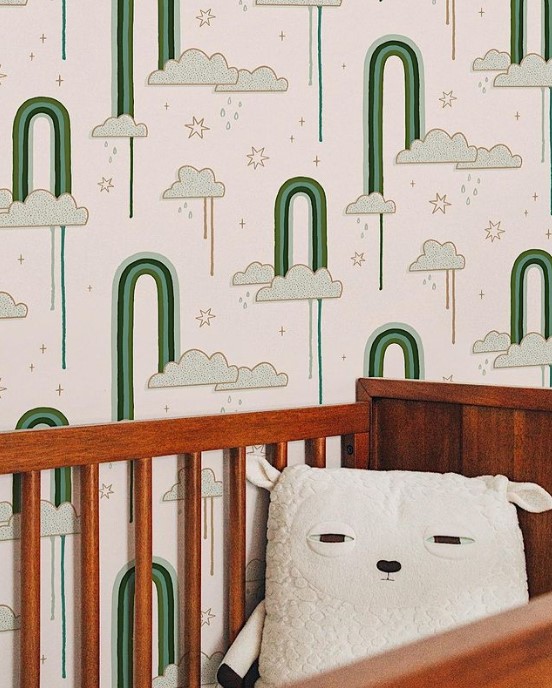 If you love bold and bright designs, this green dripping Rainbow wallpaper is for you! Fill your baby's nursery with color thanks to the unique rain, star, and rainbows in varying green shades accented by a pale pink background. This wallpaper makes an excellent statement piece when used as an accent wall, but be careful using it on all the walls if the room is smaller, to avoid making it feel too busy. Opt for neutral furnishings to help even out the print, and make it pop! 
7. Soft Peony's Wallpaper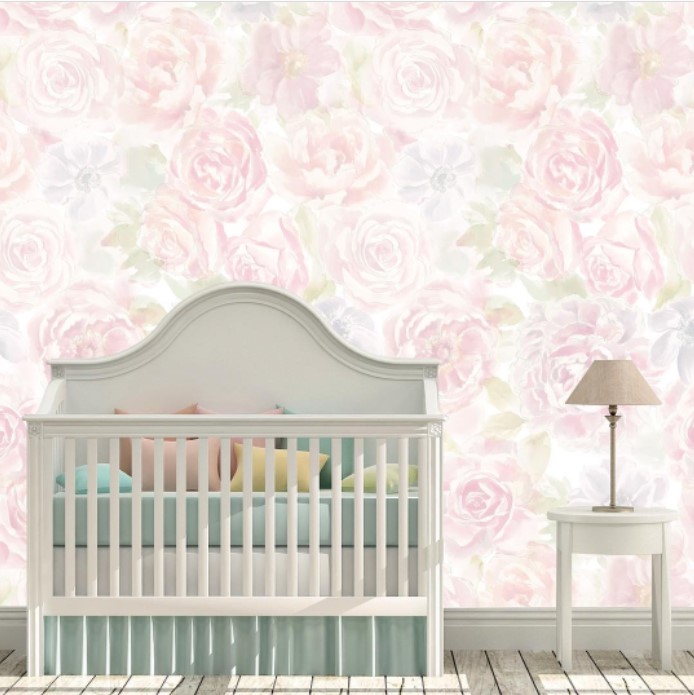 With beautiful soft pink and purple peonies, this floral wallpaper is an excellent choice for an accent wall in your baby's nursery. Place it on the same wall as the crib to draw the eye and create an adorable focal piece. 
8. Terrazo Wallpaper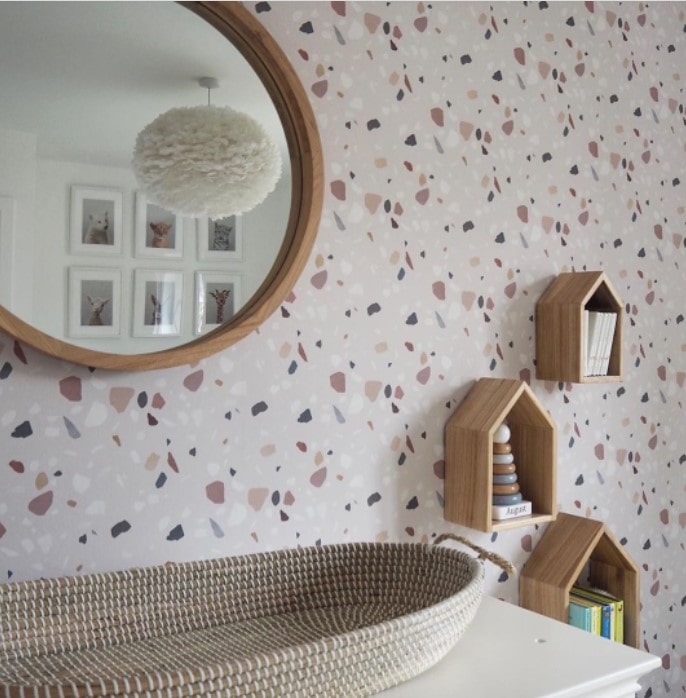 This speckled print is the perfect way to add interest to your baby's room with cute nursery wallpaper. The colors are muted enough to not be overbearing but saturated enough not to look washed out. Since the wallpaper isn't too bold, you can add color through your furniture and decor without making the room feel too busy. 
9. Paradise Lost Jungle Nursery Wallpaper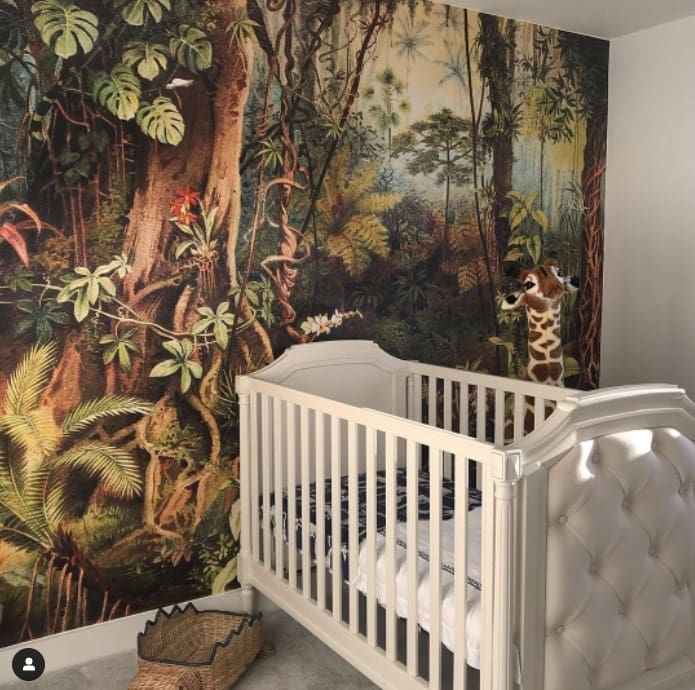 If you're searching for an updated take on a jungle pattern, look no further than this adorable Paradise Lost print. Bursting with soft greens, yellows, and tans, it's the perfect accent to any nursery, providing interest and helping to spur on your baby's imagination. Various leaves, including Monstera and palms, add a tropical feel and the sweet Giraffe is sure to become your baby's best friend.
10. Modern Space (Modern Nursery Wallpaper)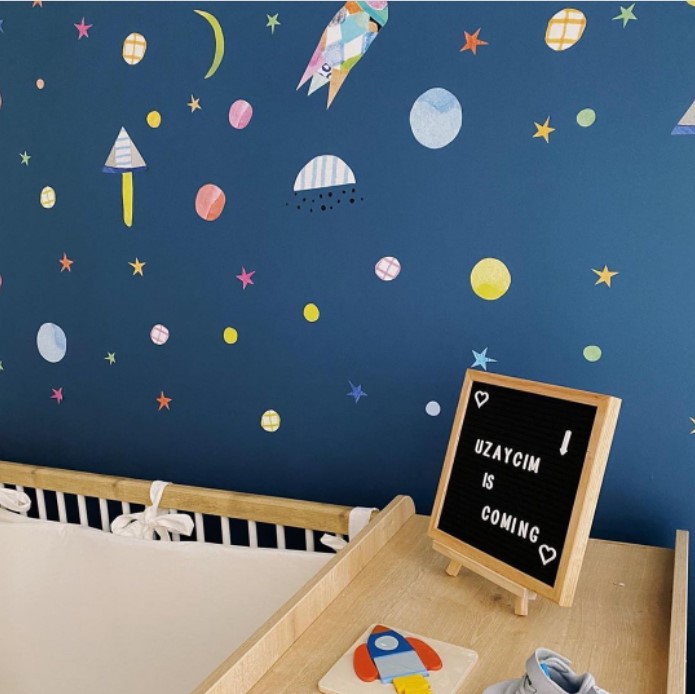 For a modern addition to your baby's nursery, this space-themed wallpaper is sure to ignite the imagination! Inspired by simplistic futuristic designs, your nursery is sure to stand apart from the rest! You never have to worry about your nursery looking dull and boring with this unique design on the walls. 
11. Surfers Paradise Collage Wallpaper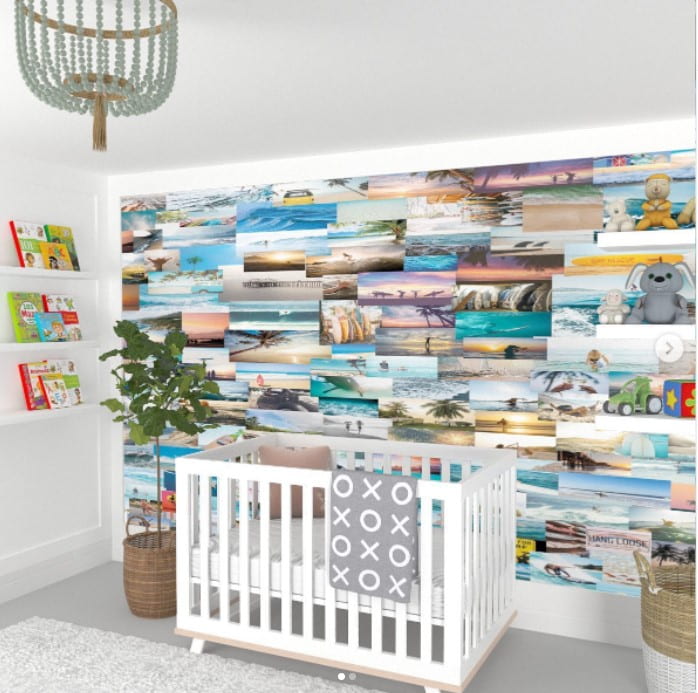 For the perfect unisex beach-themed wallpaper, check out this surf-themed wallpaper. With a collage of different beach themes, including surfers, and surfboards atop vintage cars, your baby will be ready to hang ten in no time! If you want to create a beachy feel in your baby's nursery without using the typical decor, why not try this modern take on a classic design, and make the nursery a surfer's escape. 
12. Monotone Lines Wallpaper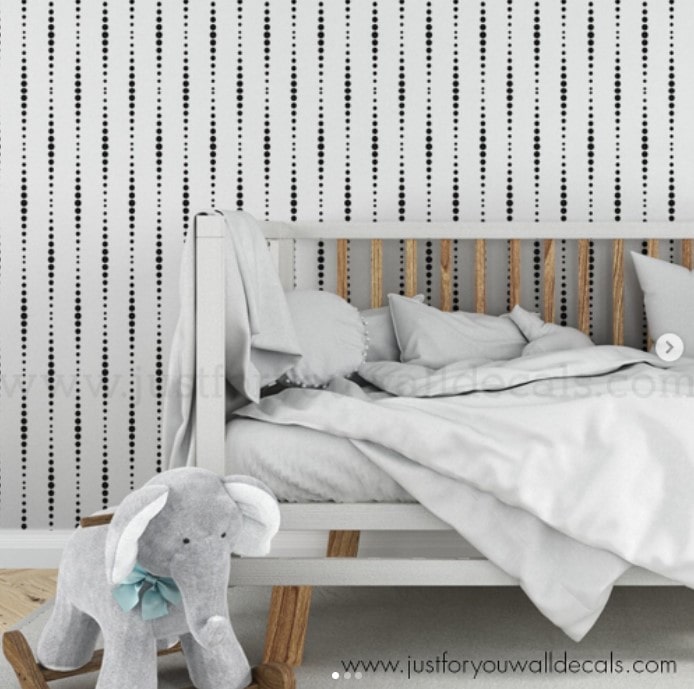 When you want a wallpaper that is modern and perfect for a nursery, consider this monotone lines option. With black lines created from cascading circles, it works well for either a boy or a girl, creating an elevated look without feeling too mature. Consider choosing more neutral furnishings to continue the modern theme, or you can choose to add pops of color that create a perfect accent to this simple yet stunning wallpaper, giving the room a cohesive look and feel.  
13. Tropical Foliage Nursery Wallpaper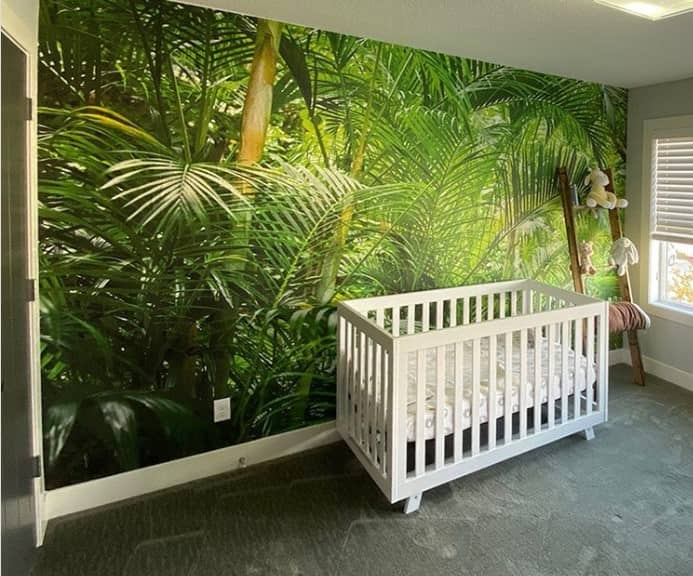 When tropical paradise is your goal, this tropical foliage print is an ideal choice. It's a perfect addition to any nursery, bringing in the beauty of nature and igniting a sense of adventure. You'll inspire your baby to dream of jungle expeditions as they drift to sleep beneath this fun design. 
14. Watercolor Rainbows Cute Nursery Wallpaper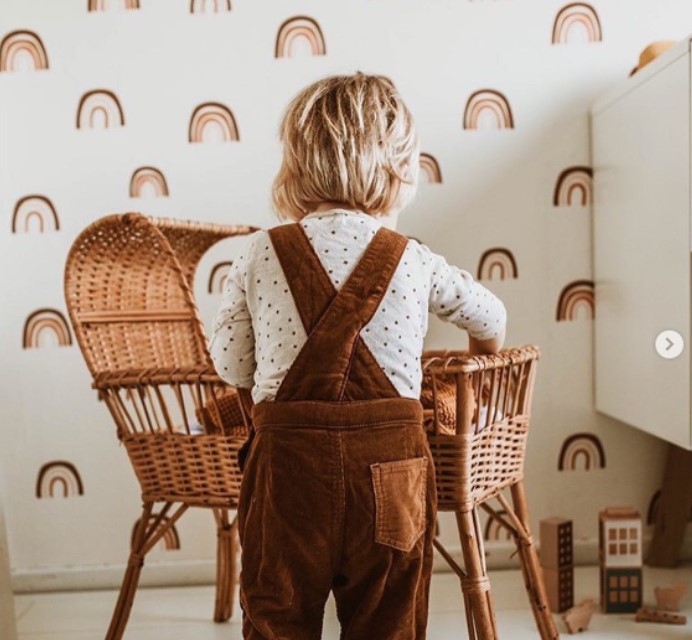 These sweet watercolor rainbows are sure to bring a little extra happiness into your baby's nursery. The muted browns, pinks, and tans are an excellent unisex choice, while the minimalistic design helps the room feel light and airy. Use it on an accent wall or throughout the space to create a bold yet sweet feel to your baby's room. Thanks to the muted colors, it's easy to choose decor that matches and plays off the beautiful colors. 
15. Aesthetic Pastel Wallpaper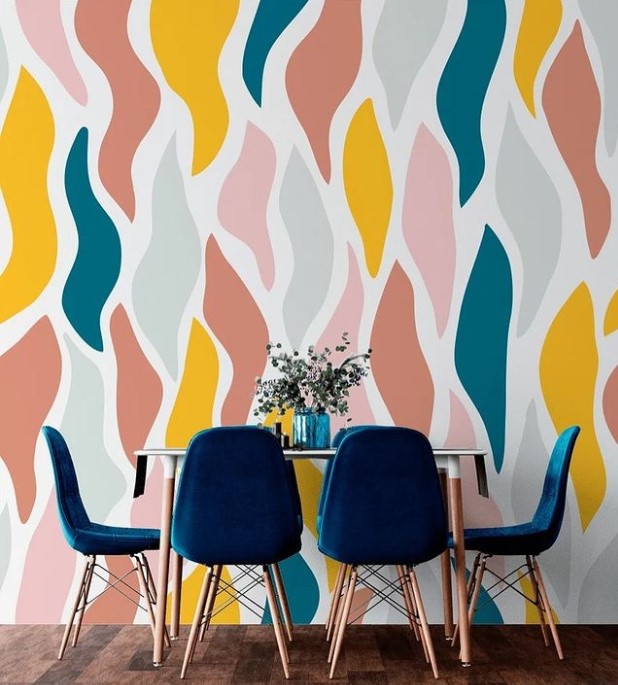 When you want bold colors and shapes to the walls inside your baby's room, this aesthetic pastel wallpaper will make a fun addition. Popping with pinks, yellow, and teal, this wallpaper option helps the nursery feel like home. Activate your baby's developing brain through the bold design without causing them to feel overstimulated, with the perfect balance of exciting and inviting. 
16. Skateboarding Fun Wallpaper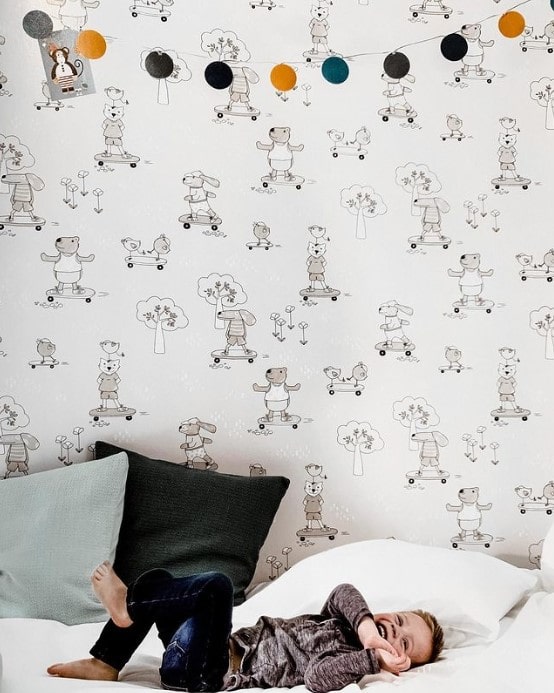 When you want to encourage fitness and activity while still bringing a fun design aspect into the nursery, the Fitness Fun wallpaper is the answer. With pictures of adorable dogs and cats skateboarding, your baby will grow up excited to move their bodies and play! 
17. Abstract Brushstrokes Wallpaper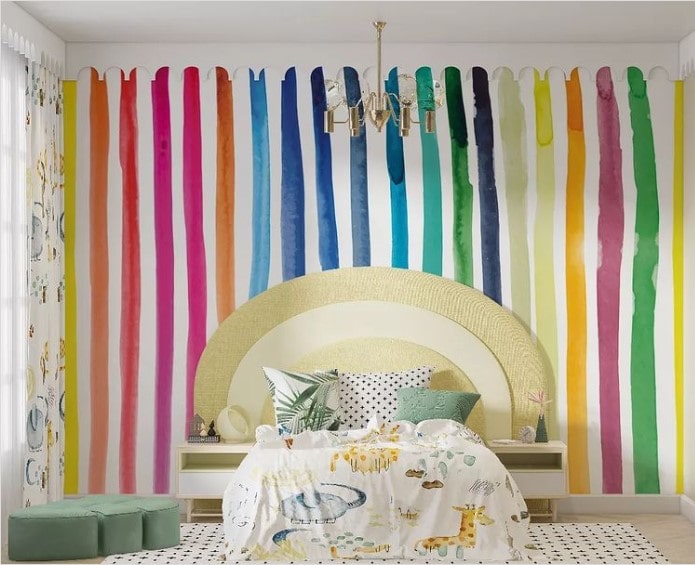 When your goal is to add color to your baby's room, there's nothing better than this Abstract brushstroke nursery wallpaper. Packed full of bright greens, blues, yellows, and pinks, it's a fun and exciting pattern that will help foster your child's creativity. Since it's such a bright, busy pattern with so many colors, it makes it easy to bring in decor that will tie into its bold colors.
18. Crashing Waves Nursery Wallpaper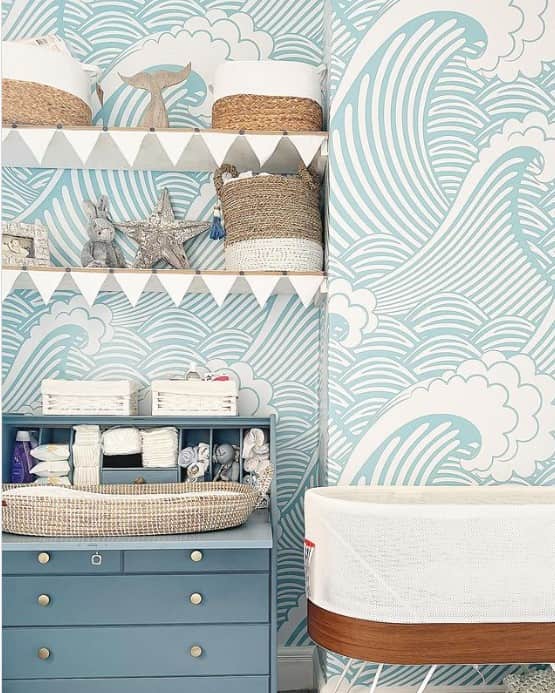 For the beach lover, this precious wave-patterned nursery wallpaper is great for bringing a coastal feel in a non-traditional way. The simplistic wave pattern makes you feel like you're on a boat sailing out to sea, inspiring a love of the water early on. 
19. Bold Boho Floral (Boho nursery wallpaper)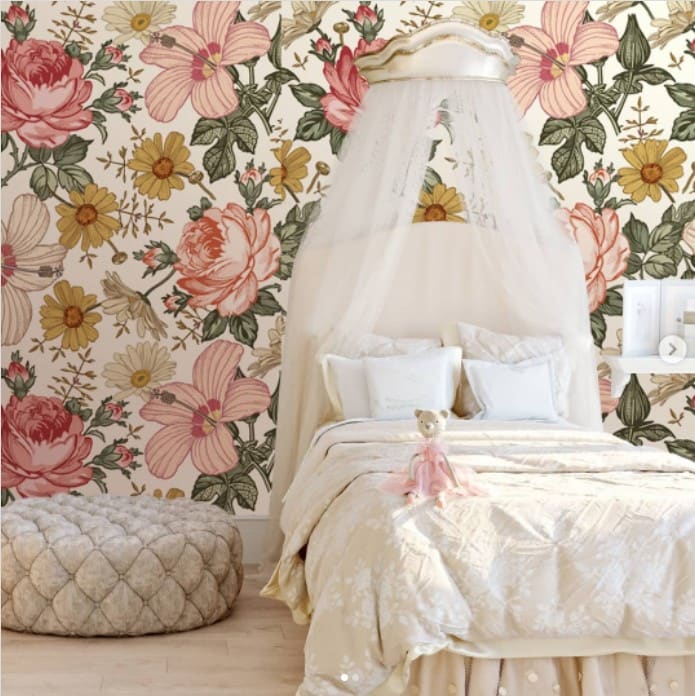 When you love florals but also bold colors, this bold boho floral print is your ideal match. Saturate your baby's room with deep greens, pinks, yellows, and whites to make a bold statement and create a relaxing but exciting feeling.
20. Bespoke Circus Wallpaper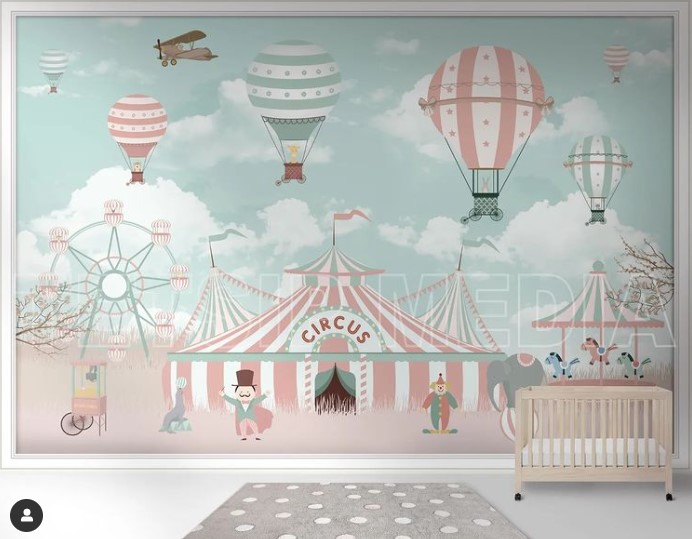 If you want to create a mural look without the cost or time, this bespoke circus wallpaper creates a fun take on the timeless scene. A great unisex option full of simple trees and a circus tent in muted colors make any nursery a place where imagination can soar. This wallpaper is a fun way to add excitement to your little one's nursery. As your baby grows, they'll love imagining the circus happening inside and dreaming of where the hot air balloons will fly to, using their creativity to make the wall an extension of their toybox. 
Conclusion
Your baby's nursery doesn't have to be plain and boring; using modern nursery wallpaper can give it color and patterns to make it truly unique. Don't be afraid to try something new and create a space that welcomes your baby and grows with them as they age!