Setting the table is one of the key attractions in the dining room. Some homeowners find the time and devote effort in searching for the best dinnerware; this is more than just serving food and eating on the plate. In fact, do some research to see the differences in various kinds of dinnerware for the appropriate setting. For homeowners who love to host parties, buying the proper Kitchenware must involve learning more about the bits and pieces to invest in the right dinnerware set.
Porcelain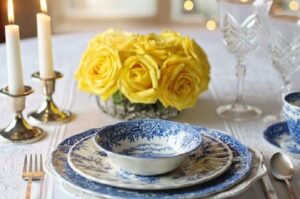 It is known as one of the most versatile types that are durable and contains a non-porous exterior. These pieces usually are safe in microwave, oven, and dishwasher use. However, some may have metallic accents on them, so they're not advisable to be used in microwave recipes.
Bone China
The bone china is the type with elegant, durable, and lightweight characteristics. They are typically recommended for daily use and special events at home because they have chip-resistant features, making it easy for the guests to move them around. Also, this range is the strongest among all other chinaware.
Melamine
This type of dinnerware is every host's dream because it is shatterproof and doesn't break or chip quickly. Most homeowners who own this kind, use it outdoors. They are safe for dishwashers, so nothing to worry about cleaning them, but they shouldn't go in a microwave.
Stoneware
Those plates or Kitchenware with finishing glaze, making the item look smooth and damp-proof, are known as the stoneware kind. Families love to use this type for their everyday dining activities. Its proper storage is in places with even temperature to maintain its fine condition. Because their designs are hand-painted, it is always advisable to hand wash them instead of putting them in a dishwasher.
Earthenware
The earthenware is one of the oldest industrial elements which makes the piece a bit weighty. Every plate or dinnerware looks durable and casual but of great value. Dinnerware experts recommend not using them during abrupt temperature changes such as in an oven or a microwave with too high a setting.
Dinnerware Styles
Injecting one's style into a dinnerware set is pretty straightforward. They have a plethora of designs from casual to trendy and some in-betweens. Those looking for formal sets can consider stoneware, porcelain, or pieces made from China. On the other hand, when shopping for casual kinds, they can pick earthenware and melamine because of their durability. Experts recommend choosing something robust for daily use or the type with chip-resistant characteristics. Remember, there will be kids around, and these people don't have the finesse to use breakables. Usually, homeowners buy one set each for formal settings and daily use.
Since the dinnerware styles are already covered, the next part will be looking for designs suitable for casual and formal events. Essentially their accents can be grouped according to sold, branded, hand-painted, and patterned. The best form of expressing one's personality and complementing the theme is looking into patterns and colors. Usually, the majority will choose neutral shades like ivory or white since these are the easiest and safest among the formal pieces.
Choosing the set with a lovely rim or border detail will add personality while still highlighting the meal. When shopping for plates for informal gatherings, go for those with vibrant colors and loud patterns that quickly catch everyone's attention. On the other hand, when it is something for long-time use, pieces with solid white shades are excellent choices.