The Melania Trump wedding dress was just one among many glamorous things at the wedding between the former model and the former President of the United States back in 2005, but it wasn't the only one she had for the occasion. That's right, on top of a custom made gown from the house of Dior, the iconic Melania Trump wedding dress was also accompanied by another piece. No matter what your opinion of her husband might be, it's hard to deny that Melania Trump is quite the fashionista – and has been for some time.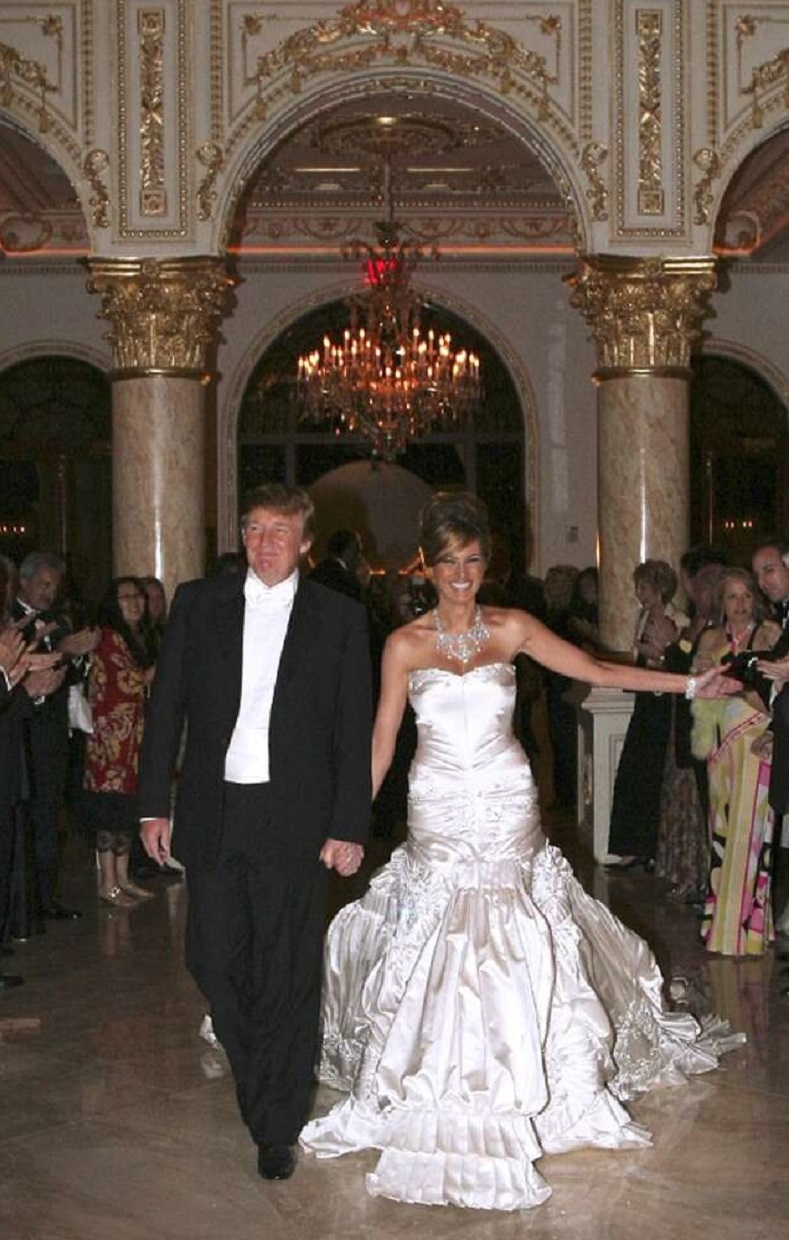 But before we get to the second dress, you'll probably want to know just how much the Melania Trump wedding dress cost? First, let's outline how much the Trumps laid down for the entire affair before we get into relatively minor details like the dress because, though it was the piece of a lifetime for anyone else, for the Trumps it was just one part of an overall luxurious wedding that cost some $2.5 million to host at Donald Trump's club in Florida, Mar-a-Lago.
Featuring a star-studded guest list including Hollywood luminaries like Simon Cowell and even future political rival Hillary Clinton (as well as her husband, Bill), the wedding was one of the major events of the Palm Beach social scene. Keeping in mind Trump's enormous pop-culture cachet at the time, coming off the heels of his success with the television show The Apprentice, the wedding lived up to Donald's exacting standards by any measure.
Of course, none of this flare and showmanship came as a surprise. In fact, Trump's proposal itself was something right out of Hollywood. Presenting Melania with no less than a $3.1 million dollar diamond ring from famed jeweler Graff's, the Trump wedding, itself unable to match that price tag, was nonetheless an extravagant affair.
Given all of this, the Melania Trump wedding dress price, at $105,000, seems quite modest.
As for the Melania Trump wedding dress veil, it was some 16 feet in length and, like the piece from Dior, studded with pearls and rhinestones. And, as we mentioned earlier, it didn't quite end there. The Melania Trump wedding dress designer for the second piece, Vera Wang, arrived in a sleeveless bandeau top for an elegant, form-fitting evening gown to wear after the Dior gown.
Apparently, this decision wasn't one born out of a need for pure luxury but rather due to the weight of the Dior gown. Coming in at over sixty pounds in weight, the Dior gown proved to be uncomfortable for more than ceremonial purposes thus the Vera Wang secondary gown was a logical choice. The contrast between the two dresses can be readily seen in the Melania Trump wedding dress pictures. While the Dior piece is overflowing with luxury and glamour, the Vera Wang piece is subdued and understated – as well as much more livable.