Everyone loves a mouth-watering and filling all you can eat buffet. In this type of setup, various foods are available for the taking. You can have multiple servings. Some restaurants specialize in offering buffets and will even have specialties such as seafood buffets. It is easy to overstuff yourself, but you can maximize your buffet experience and get your money's worth with a few tricks.
Take the time to discover buffets with the best deals.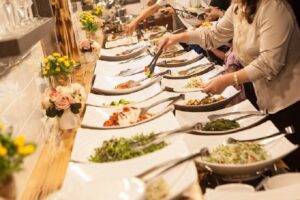 If you live in an urban city, there's a good chance that fantastic buffet restaurant promotions are available. They offer variety in terms of food selection, price, and value.
Ask yourself what you're looking for in a buffet, and take the time to research restaurants that offer deals. You must also read the small print about what is included in the buffet and what is not. You don't want embarrassing surprises when you get the bill.
Choose buffets that satisfy your gastronomic tastes.
There might be a new Indian buffet opening in your neighbourhood with top-notch food. But you won't get a fantastic experience if you have an aversion to curry.
Don't be convinced by the price of food volume ratio schemes if the cuisine is not your taste. You will only be packing on calories, which are meh to your taste buds.
Restaurants that offer varied cuisine provide you with more options.
An extensive buffet brings adventure to your plate. Tons of options to eat at the buffet table will help you survive when you think you have had enough and cannot stuff yourself with another morsel.
Fusion restaurants offer surprising flavours and new angles to traditional cuisines. Some will have fusions of Thai, Chinese, and Japanese. Some even offer a dedicated seafood buffet area. In these cases, you can have a trip around the world and have a little bit of everything.
Opt for a lunch buffet meal rather than dinner
Restaurants offer a different price for lunch and dinner. In many cases, the price gets bumped up in the evenings. Lunch hours typically extend up to 5 PM. Do your research on menus available at these hours. Another benefit to stuffing yourself at lunchtime is you have more time to expend the calories before passing out in bed.
Dress for a huge meal
If you are wearing tight-fitting jeans, keep in mind that you might barely breathe in them after consuming a week's worth of food. You might want to wear elastic trousers which can accommodate your expanding size.
Exercise before going to an all-you-can-eat buffet
Make sure to have a quick workout before entering the restaurant. Get your daily dose of exercise early in the morning.
Exercise helps prepare your body for the big event. Physical activities will get your blood pumping and kickstart your metabolism. Your body will be ready, and you might be feeling a tad hungry when you finally sit down to gobble up everything on your plate.
Choose foods that provide maximum value.
Never start your buffet with filler foods such as pasta, bread, and rice. You can fill yourself with carbs later. Be adventurous. Choose foods that you do not usually eat. Tasting new foods are never boring. It is also best if you steer clear of sugary drinks. These are just excess calories that can be used for premium food selections.
Conclusion
From time to time, you might want to treat yourself to a gastronomic adventure. There are plenty of restaurants that offer buffets that give bang for your buck. You get what you pay for, and buffets on the higher price spectrum offer more flavours and culinary expertise. But cheaper buffets also offer excellent well-loved choices if you aren't picky.