Things to do in Antalya (Turkey's southern pearl) are various and all of them are perfect –yet, some of them are more perfect if you join in as a family! If you plan for having a 5-star vacation in Turkey's most beautiful holiday resort, Antalya City; and if you want to make the joy family-size, you should know the best activities for families in Antalya. Luckily, you will learn them all here!
So, let's get started!
Antalya Horse Safari
One of the most peaceful and fun activities for families held in Antalya is horse safari. Simply, in this activity, you and your beloved ones have a magical and relaxing ride on horseback, and mix to the nature. Scents of trees and flowers, hybrid of blue and green colors, lush greenery that surround the safari path –every detail about this journey will make you get rid of the stress and cleanse your body and soul. When following the assigned track in the nature, you will get relaxed, observe the lovely atmosphere and take superb photos!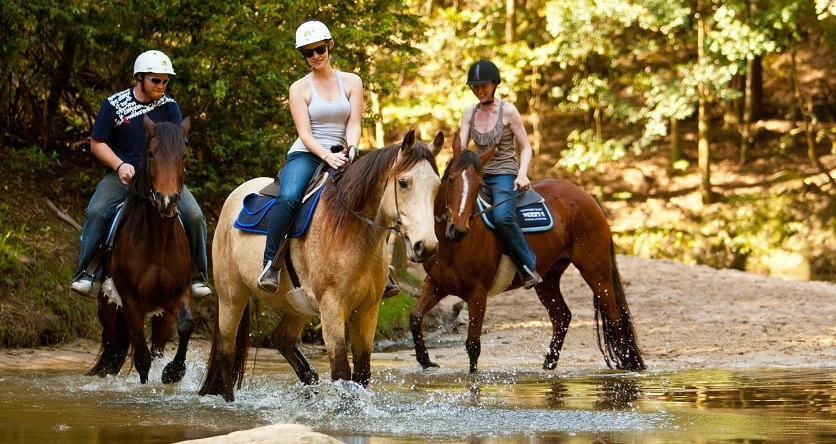 Besides from its amazing environment, the Antalya horse safari is also good for physical and mental improvement for children. While they are trying to sit properly on their horses, their muscular system will get strengthen, and their self-esteem will improve.
In short, we highly recommend you to put the Antalya horse safari at the top of your activity on your list! And don't forget clicking the link to learn the whole program!
Antalya Aquapark
Another one of the things to do in Antalya as a family is of course, visiting the best Antalya Aquapark –Lands of Legends, as known as Turkish Disneyland! From morning to afternoon, you and your children can slide down on the crazy waterslides, swim in different pools and get into the different activities. Since the facility is the largest and most equipped in the entire coast, you will experience epic things and unique activities.
We don't even need to mention how children will have fun during the Antalya Lands of Legends Tour; but by clicking the link and reading the content, you will have an idea on it!
Antalya Aquarium
If you want to combine fun with a little bit education for your children, we know amazing place to do so: It's called Antalya Aquarium!
Having the longest tunnel aquarium in Europe, this facility is the best place to visit for ones who would like to learn the life under the surface and their inhabitants! As an adult, you will learn many new things at once, and children will definitely open the gates of new worlds that are magical, unique, dazzling and astonishing! Therefore, the time they have in there will be a life-time experience!
In its various sections, you will enter different dimensions, but the learning process will remain the same. To sum up, for a fun lecture on marine life and many others, visit Antalya Aquarium Tour and enjoy a very blue day!
Antalya ATV Safari
Have you ever imagined having a thrilling, muddy, crazy and fun ride with your kids on an off-road vehicle? And it should also be very safe because we are talking about children… Sounds impossible? Luckily, the answer is a big no: You can have a ride safely and still crazily as you expect!
By joining in Antalya Buggy Safari, you will get a Buggy vehicle and have a test ride first. The vehicle with its 2 seats perfect for you and your children will host your filled-up-with-adrenaline bodies comfortably, and you will take to the roads! Moving as a Buggy convoy and accompanied by professional instructors, you will complete the off-road track which is full of natural obstacles such as mud, water and bumps.
During the journey time, you will share precious moments with your children and the sense of excitement. And this will improve the bond of sincerity and trust between each other. During the whole journey, you will be reminding your children that you are both of the hero and best friends of them!
The Best Travel Agency Provide the Best Family Trips in Antalya
If you like our ideas on the best things to do in Antalya for families above, and would like to see other options, you can check Excursion Market's Antalya excursions! This travel agency is perfect in the field with its experienced and friendly team, and willing to help you on creating the best holiday in Turkey for you and your family! Thus, we highly recommend you visiting them and have amazing opinions!
Have a nice holiday in Antalya!