Veterans Day is celebrated on November 11 in the United States. It is a day dedicated to military personnel who served the country in WW I and II. This day is also a great way to teach preschool kids about history through fun crafts. As it is just around the corner, you've probably already started thinking about what activities you can do with preschoolers. We've done our research, so we are proud to present the best 10 Veterans Day craft ideas for preschool kids. Keep reading to learn more about them.
Learning through fun activities, such as crafts is one of the best ways for kids to absorb knowledge. Poppy is a symbol of Veterans Day, so it is the theme of many activities, along with soldiers and flags. These are all amusing and fun, hence, kids love them! You can start by making a remembrance poppy wreath – it is simple and appealing. Then, you can make a patriotic photo frame or a felt poppy bouquet. Moreover, there are other crafts such as a poppy pinwheel or a soldier puppet. You can engage in some themed activities such as military matching games, dress up, reading and colouring. Additionally, you can make headbands and a Veterans Day board.
What is Veterans Day?
As we already briefly mentioned, Veterans Day is a day when we remember all the brave people who protected and protect us by serving the country. It is necessary to have some background knowledge to be able to craft the right activities. Besides the USA, other countries such as Canada, Australia, Great Britain and France also commemorate the veterans of WW I and II. There are plenty of activities you can do with preschoolers to honour these brave people – take a look. This helps them not only expand their knowledge and skills but also, prepare kids for a better future.
1. Remembrance poppy wreath for Veterans Day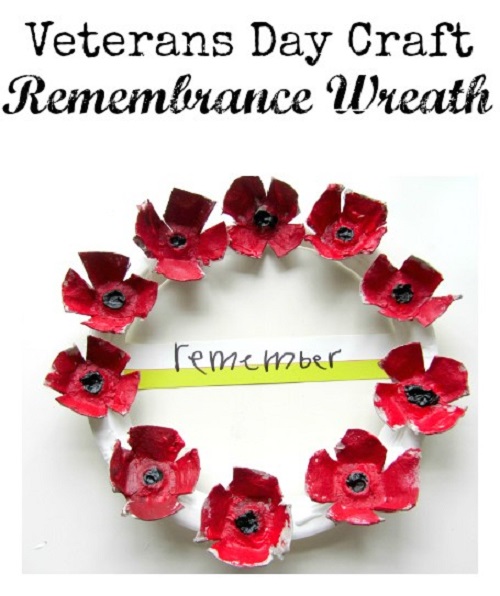 You will notice that plenty of Veterans Day crafts use poppies as a central theme. That's because poppies came to be associated with this holiday from a poem written by a WW soldier. This poem inspired a university professor later on, after which he wrote a poem and decided to sell silk poppies to raise money for veterans. For this craft, you need empty egg cardboard, a paper plate, glue and paint. Cut the cups out of the egg carton, make four cuts and trim them to make them look like poppies. Colour them red with a black middle. Next, you need to cut the paper plate into a wreath. Glue the flowers along the edges.
Craft source
2. Felt poppy bouquet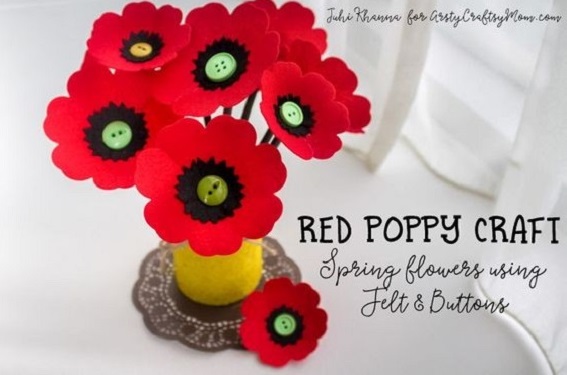 Another story is tied to poppies: during the war, trees and plants were destroyed. Among the ruins, the only thing that grew was poppy – it is a weed and it can grow anywhere. That's how it came to symbolize hope after despair. To make a felt poppy bouquet you need:
Red and Black felt
Scissors
Buttons
An empty can
Patterned paper for covering the can
Shoe sticks
8 petaled flower and circle templates
Hot glue
Read more here on how to make it step by step:
3. Poppy pinwheel to honour Veterans Day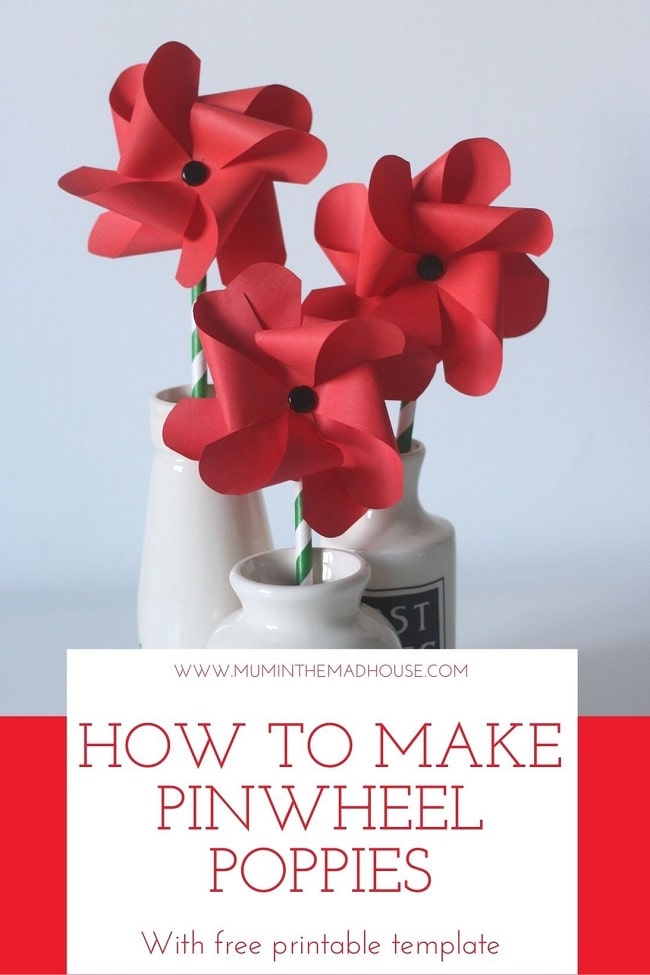 Kids love pinwheels – why not use that and commemorate veterans by making a red pinwheel? It is actually a combination of fun pinwheels and symbolic red poppies. When you finish them, you can place them in a vase. For this craft, you need:
Red paper
Brass Paper Fasteners
Black Sharpie
Green Paper straws
Hole punch 1/8 inch
Pinwheel Poppy Template 
Take a look at this tutorial on how to make it.
4. Soldier puppet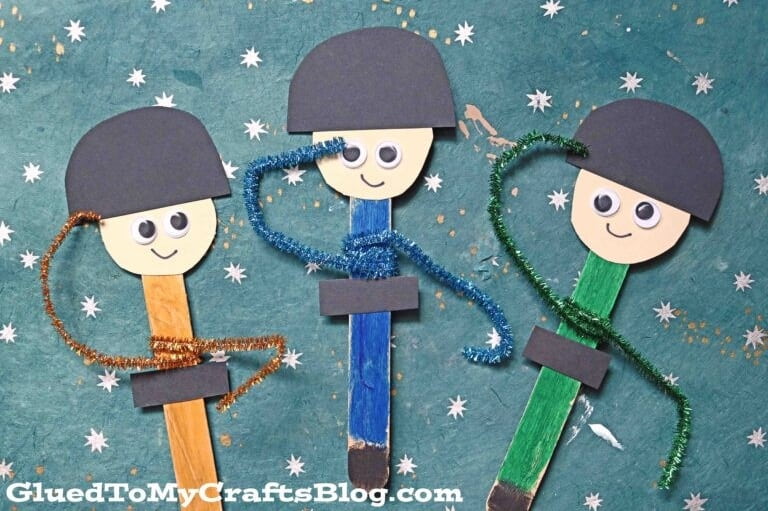 A soldier is yet another symbol of Veterans Day. Kids will enjoy making these simple and fun soldier puppets from popsicle sticks. You can use this opportunity to teach kids about the different branches of the military, so they could make soldiers in different uniforms. The supplies you need include:
1 jumbo popsicle stick per a puppet 
cardboard paper – tan and black
scissors 
tan colour pipe cleaners per puppet
glue
grey, tan, and blue paint and brushes
a paper plate
wiggly eyes
black sharpie
optional materials – rhinestones, glitter, glitter glue
Follow the link to learn more about this craft design.
5. Military matching game to learn more about Veterans Day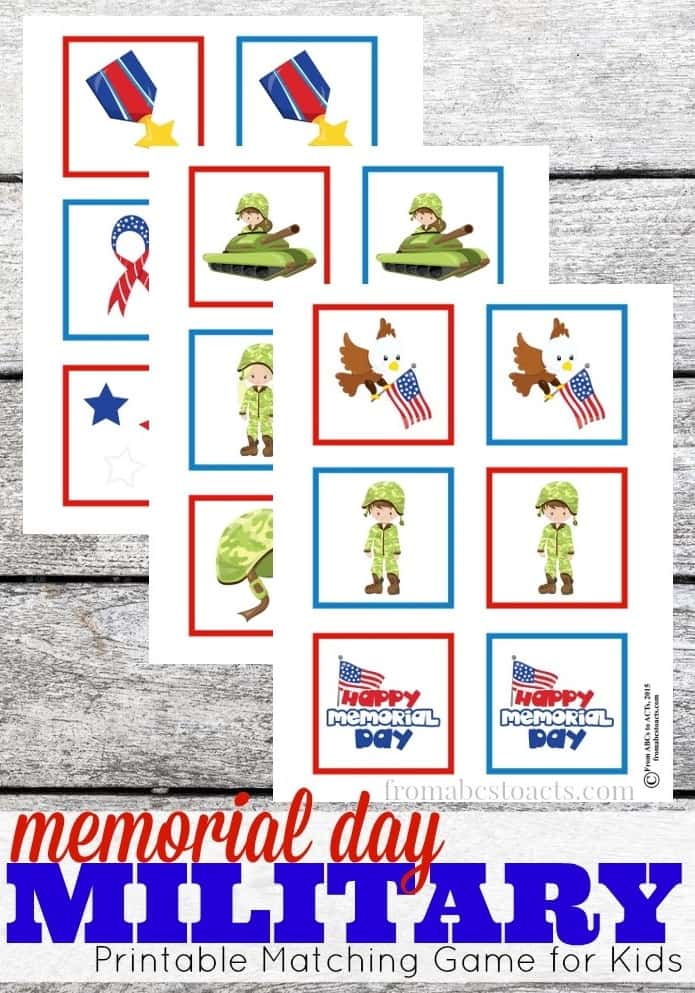 A fun way to train the kids' memory is through a memory game. You can create a unique, Veterans Day-themed memory game. You can use military and patriotic icons to be on cards. Additionally, you can play it both in preschool and at home. It can easily be a fun family time activity for the whole family to enjoy.
Here you can find the printables: 
https://fromabcstoacts.com/military-matching-game-for-kids/
However, you can also craft the game yourself. Have everyone draw pairs of symbols on a piece of paper, and colour them. After the kids have done that, cut out the pictures and glue them on cardboard. You can make this a group activity.
6. Creative headbands to thank the Veterans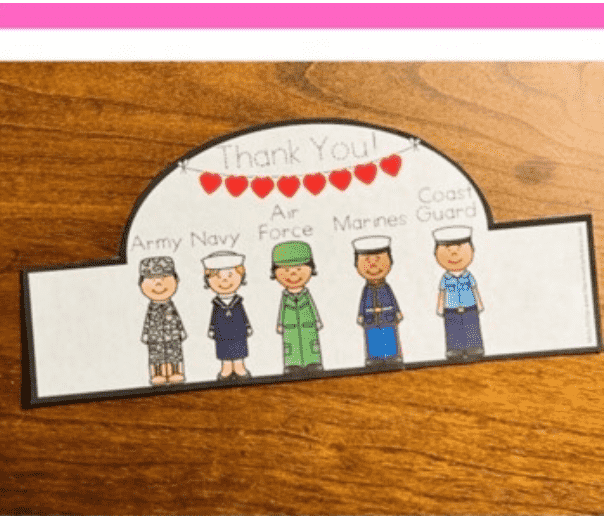 This is a different kind of craft you can do – create custom-made thematic headbands. It is among the kids' favourites as they can wear them. There is a printable you can download and have the kids paint however they like. Finally, you should cut and staple it to fit the preschoolers' heads.
7. Veterans Day board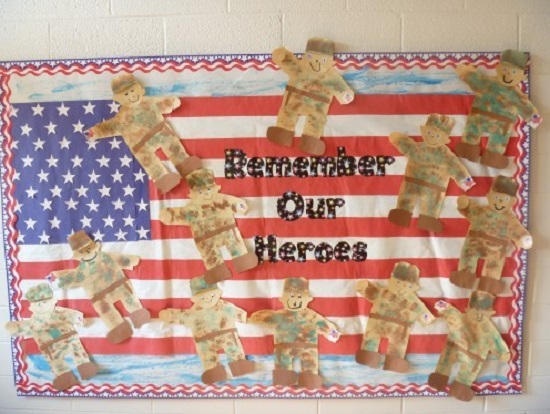 Making a board is also an activity that preschoolers enjoy doing, It is a group activity. The whole class or part of a class should participate in making a board dedicated to Veterans Day. You can incorporate images of famous male and female veterans, write poems and showcase whatever you find relevant.
You can learn more about it in this article.
8. Patriotic photo frame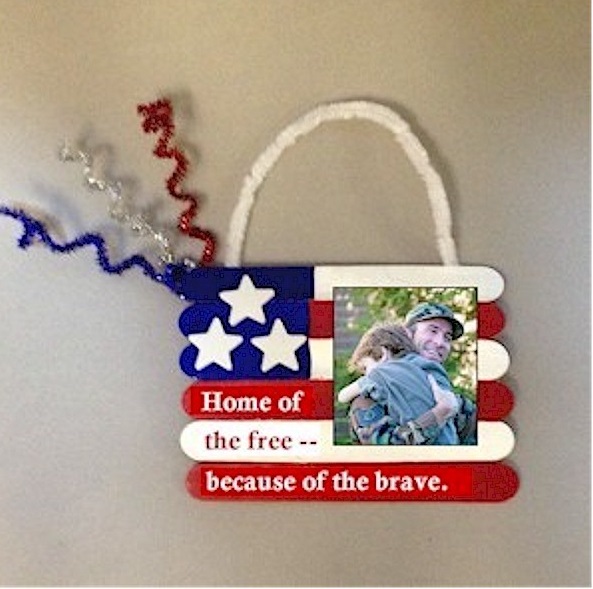 A patriotic photo frame would be a great gift for a veteran in the family. This is a great activity you can include in your preschool institution. Professional and devoted child care centres focus on developing kids' creativity and sparking learning things through doing. It has been proven that this is one of the best strategies: learning through play. For this activity what you need is: 
6 jumbo craft stticks
foam stars
white, red, blue, and silver pipe cleaners
Cardboard 4″ x 5″
red, white, and blue paint and brush
pencil, ruler, hot glue
photo 2.5″ x 3″
printable
Learn more here about how to make it: 
https://www.freekidscrafts.com/patriotic-photo-frame/
There are plenty of easy and fun activities you can do with children to commemorate Veterans Day – you can search for activities as well as tutorials online. Choose the ones you find suitable and age-appropriate.