Waterfall island is a statement of a contemporary look with its clean line flowing over the edge from the countertop. Its flat edging resembles a waterfall and creates a continuous flow through the surface.
This unique and stylish addition can transform your kitchen into the focal point of your home. Plus, using quartz in this niche construction will provide durable, resilient, and hygienic addition to the busiest kitchens. Here is more information about quartz waterfall islands to give your kitchen an upgrade.
Read more: 6 Ways to Give Your Kitchen a Vintage Look
Quartz waterfall island: why are they popular?
A quartz waterfall kitchen island is a type of kitchen island that features a quartz countertop with a built-in waterfall edge. The quartz material is sleek and durable, and the waterfall edge provides a modern and minimalist look.
In a waterfall island, quartz is becoming increasingly popular in homes because it provides both function and style.
You May Also Like: Easy Guide To Shopping for Kitchenware
The built-in waterfall edge is perfect for prep work or seated diners who want to watch the chef. And quartz is an ideal material for food preparation because it is non-porous and easy to clean.
For homeowners who want to make a stylish statement in their kitchen, a quartz waterfall island is a perfect choice. You can read this article to get inspired and reach the ultimate guide for the quartz waterfall countertop trend.
What are the benefits of choosing a waterfall quartz island?
A quartz waterfall island can be an elegant and functional addition to your kitchen. Quartz is an extremely durable material that's resistant to scratches, heat, and stains. It is also low maintenance, requiring only occasional cleaning.
It can add both value and interest to your kitchen renovation project. The smooth, sleek lines of quartz are a modern take on the classic kitchen island, and the waterfall edge provides a unique focal point in the room.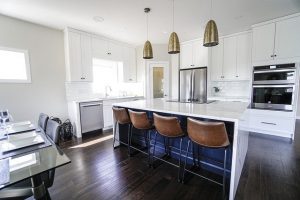 In addition to its aesthetic appeal, a quartz waterfall island is also highly functional. The extra-wide edge provides plenty of room for meal prep and entertaining, while the deep basin can be used for food storage or as a sink. Whether planning a major kitchen remodel or simply looking for ways to update your space, a quartz waterfall island is an excellent option.
How can you choose the right waterfall island for your home?
When considering a quartz waterfall kitchen island for your home, there are several factors to take into account, including size, color, and style.
Size: The first thing to determine is the size of the quartz island you will need. This mainly depends on the size of your kitchen and the amount of counter space you have available.
The quartz waterfall island should be proportional to the size of your kitchen. It should not be so large that it overloads the space, but it should be large enough to provide reasonable countertop space and storage.
Color: The quartz waterfall island should complement the existing color palette of your kitchen. If you have dark cabinetry, opt for a lighter quartz countertop to brighten up the space. Conversely, if your kitchen is mostly white or light-colored, you can choose a darker quartz countertop to add contrast and visual interest.
Quartz comes in various colors, so it's important to decide what look you are going for in your kitchen. If you want a sleek and modern look, go for a darker quartz countertop. If you prefer a more eclectic look, then opt for light colored quartz. Also, choosing your quartz surfaces in contrasting colors with the cabinets can be a unique option to show your contemporary taste.
Style: The quartz waterfall island design should match the overall style of your kitchen. If you have a contemporary kitchen, look for an island with clean lines and a minimalist design coming in square shapes.
But if you are aiming for a country feel, an oval or round island would be better suited with decorative details like turned legs or raised panel doors.
How can you customize your quartz waterfall island?
If you're thinking about adding a quartz waterfall kitchen island, there are endless possibilities to accessorize and customize it to create a look that's unique to your home and reflects your personal style.
One option is to choose coordinating countertops and backsplash materials to create a cohesive look. Quartz surfaces create a dramatic visual effect and give the area a polished look. You can enrich this look by adding extra storage features such as shelves or cabinets to maximize functionality.
Adding personal touches such as family photos or artwork is a great way to make the island feel like your own. And if you're short on counter space, adding an overhang can give you an extra prep area.
Task lighting, pendant lights, and decorative hardware can all be used to add the finishing touches to your waterfall island quartz surface. With so many options available, the only limit is your imagination. So get creative and let your personality shine through in your new quartz waterfall kitchen island.
Read More: 6 Ways to Give Your Kitchen a Vintage Look
Make Your Kitchen Stand Out with a Quartz Waterfall Island — Conclusion
Quartz waterfall islands are becoming a popular choice for kitchen remodels because of their sleek look and practicality. If you're considering adding a waterfall island to your kitchen, there are several things to consider before making your purchase.
The most important factors are the color of the quartz you choose, as well as the size and shape of the island. By keeping these factors in mind, you can narrow down your options and choose the quartz waterfall island that is perfect for your home.