Whether your job is to craft the simplest necklace, earrings, or an extraordinary piece of jewellery, it is never a difficult task to get it done with various jewellery findings available in the market. If you own a jewellery workshop, you must have all the necessary jewellery findings without which outstanding designed jewelleries could be difficult to craft. Instead of buying traditional gold and silver ornaments, people are now going for making jewelery all by themselves. Using beads, knottable metals and pearls and crystal items they make their own jewellery.
The term "Jewellery findings" denotes the classification of supplies that are used for jewellery making purposes. The findings include the necessary pieces that enhance the beauty of a jewellery. In today's article, we are going to talk about the different kinds of beaded jewellery findings one should keep himself updated with:
Different types of beaded jewellery findings: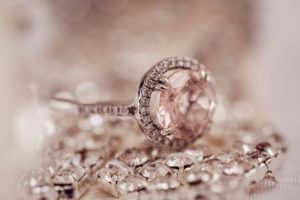 There are normally various types of jewellery findings that are used for making decorative bead jewelleries. Let's now have a look at some of such finding types:
1. Bead Caps
When it comes to crafting attractive jewelleries, beads come into the picture. Bead caps are one of the most commonly used jewellery findings. Coming in a variety of shapes and sizes, bead caps can either be used to cap one side or both in a piece of earring jewellery. As per the customers' needs and choices, the bead caps can also be placed with beaded ropes and tassels which help in holding tight the overall jewellery structure. There are several designer gem blends, stone and Swarovski blends, wire, kits, spools, and beading thread that are woven into a fine texture, for making handmade jewellery.
2. Bead Covers:
Whether it is a jump ring, clasp, or earring-type jewellery, one can take advantage of using bead covers to strengthen the end of beading wires. The best part about bead covers is these jewellery findings can easily be flattened up with pliers. Chains, cords, and glass beads are also quite popular now. However, one should make sure that he is familiar with using a properly shaped crimp so that it can perfectly fit into the wires. Moreover, bead covers are used in fastening chain nose pliers, too.
3. Clasps:
Clasps are mainly used for joining the two sides of a necklace or bracelet. These jewellery findings are one of the most popular items till now and as there are huge demand for necklaces and bracelets, including popular items like puravida bracelets in today's ultra-fashioned world, the necessity of using clasps is coming into the picture and increasing day by day. Whether it is handmade jewellery or you've got customized jewellery orders in bulk, clasps would be a great way to enhance all your jewellery types.
4. Headpins:
These jewellery findings are normally made of wires and used as a bridge in connecting the required components that spice up the look of gorgeous jewellery. There are normally two types of headpins; one has an oval shape at the end while the other one has a flattened paddle. Besides this, headpins can do wonders and be considered as one of the most decorative embellishments in the category of jewellery findings.
5. Eyepins:
Unlike headpins, eye pins come next into the picture of jewellery findings a rounded loophole that is used for connecting dangles or other beaded components.
 The discussion of the above-mentioned types of beaded jewellery findings was to clear your concept and also have a better understanding of the beaded jewellery types. You can now learn jewellery design from reliable online portals. they help you to go through a tutorial, and there are multiple informative videos that you need to go through if you want a trendy and artistic design.