A game room at home is a section of space dedicated to playing games, unwinding, and entertaining guests. It's a place where your children can hang out without you worrying about their safety and whereabouts. A game room also saves you money that might otherwise be spent at arcades or other gaming establishments. More importantly, having a game room at home fosters fun and meaningful family time.
When it comes to designing a game room, the most important consideration is functionality. Think about how you and your kids will use the area. If your family is into video games, consider adding extra screens and comfortable chairs to enhance your gaming experience. If you want to promote less screen time, fill shelves with board games or add a pool or ping pong table. If you have ample space, split the room into different sections for multi-functional family enjoyment.
Here are some ideas to inspire you when designing your kids' game room.
1. Climbing Wall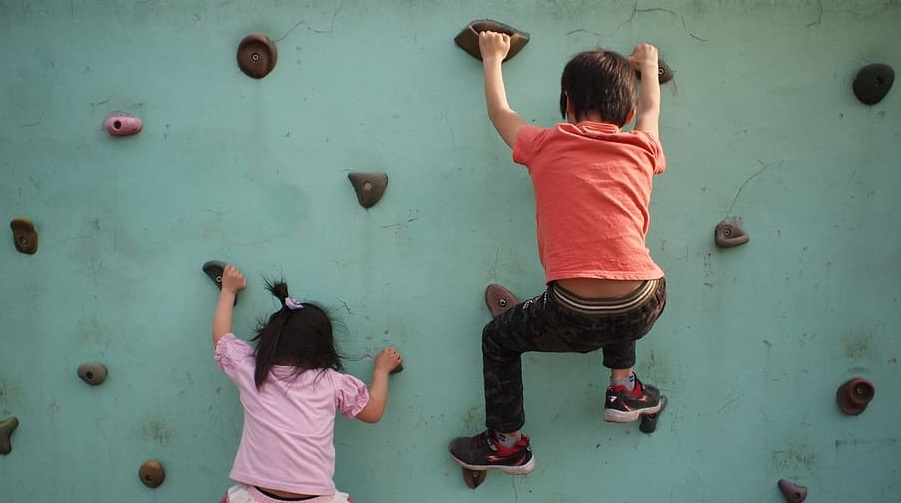 This room theme is perfect for kids who like physical challenges. Children have lots of energy, and they have an innate desire to keep playing and moving. Rather than letting them play outside without supervision, you can create a simple climbing room with low furniture and climbing arcs and triangles, or you can transform an entire wall of your kids' bedroom into a climbing space.
A climbing wall engages your children's entire body, from their fingers to their toes. It requires more than just physical strength to keep climbing—your kids will also need balance, coordination, flexibility, focus, and persistence. Staying active by climbing walls will not just keep them strong and healthy but will also help reduce your children's anxiety that may be caused by any difficult situation.
Just pay attention to your children, particularly the younger ones, when they play and climb. Make sure that safety is a priority when building your wall. To eliminate unnecessary dangers, make sure the climbing wall is not too high and use safety devices such as foam mats or mattresses to protect your kids if they fall.
2. Retro Arcade
Let your kids join you on a trip down memory lane when coins filled your pockets and video game arcades filled your afternoons. Few things give you nostalgia like a full-sized, classic arcade game machine. Purchase a vintage arcade game machine and make it the foundation of your interior design and decor. Imagine retro video game posters, Space Invaders wall art, Mario Bros. table lamps, or Pac-Man throw cushions on the couch. You can build your kids a completely vintage video game room based on your favorite arcade game.
Before you whip out your credit card, think about the size of your children's room. Even a single game cabinet, which is taller and wider than most people, can dominate a small place. However, if you do have a large enough space, there's a retro arcade machine out there waiting to add some character and charm to your game room.
3. Escape Room
Creating a positive learning environment for your kids is one of the most important parenting tips, and what better way to help develop your children's critical thinking, problem-solving, and collaborative skills than to work and play together in an escape room.
Escape rooms are exciting for people of all ages, and you can easily create one at home with items you already have. You can start your at-home escape room with a clue in the hallway that instructs the players to "Start here." Then you can use colors to guide players to a particular combination of items that would lead them to the main game room. Don't forget to choose a theme for your escape room, keeping your kids' interests in mind. Do they like bank heists, haunted mansions, a jungle adventure, or something else? You can also incorporate traditional word puzzles where your young ones can crack a code that tells them to "Turn off the lights" to reveal an invisible message that glows in the dark.
An escape room offers a fantastic family bonding experience that engages your children's mind and imagination while also encouraging teamwork and communication.
4. Writable Wall
Transform your kids' game room into a writable surface where they can draw or doodle all they want without getting in trouble.
If your children like to draw on the walls, a game room with writable walls may be the perfect solution. Use chalkboard or whiteboard paint to convert a wall into a space that encourages creativity. You can also use the surface to write each other messages, play Pictionary, Tic-tac-toe, or Hangman, and keep score of a game. A writable wall is a simple and affordable way to give your game room some creative functionality.
Decide if you want to make an entire wall of your game room writable or if you only want to transform a portion of it. If you don't want to paint anything permanent, you can install a magnetic wall, mount a large easel, or cover the wall with a giant whiteboard. Get creative and make things colorful—nobody said all whiteboard walls need to be white.
Come and Get Your Game On!
A game area allows everyone's imagination to run wild—not just your kids'. When it comes to planning and decorating this entertainment space, there are no creative limitations for parents. Whether you have a dedicated room or just a corner of your children's bedroom, treat your kids to something special and find games your whole family can enjoy together.