Eyelash extensions are at the top of the list for new beauty fads. Hollywood stars and everyday women love these lash luxuries, but what do you need to know before going for eyelash extensions?
1. What You Should Know
Eyelash extensions come in both synthetic and human hair. Synthetic lashes are made of plastic, whereas human hair is premium quality virgin silk-like fibers that create a soft feel on your eyes. Although there may be many benefits of wearing either type of lash, it's important to remember that everyone has their own preference when it comes to what lashes they like! Even if someone loves synthetic lashes more than real ones, it doesn't mean you have to fall in love with them too. What is right for one person may not be what you need, so it's important to find out what your preferences are before you purchase and wear eyelash extensions!
In addition, eyelash extensions should be chosen based on your eye shapes too. Although the length and volume are important to consider in order to get your preferred look, the lash style can clash with the natural contour and the eye shape if not chosen correctly. You can get custom natural-looking lashes from Lilac St. and  Bellalash which are customized in order to accentuate the look you are aiming for.
2. How Long Will They Last?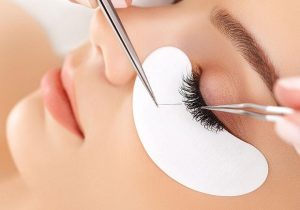 Do lash extensions hurt? No way! That would be far from fun! It does take about 40-50 minutes to apply extensions on one eye; however, the time spent depends on how long your natural lashes are and how many you want to add on as well as whether or not they will be synthetic or human hair. Once you get them applied, it takes 24 hours for the glue to set and fully bond with your natural lashes, which means lash extensions can last up to 8 weeks after those 24 hours.
3. What Should I be Looking for in an Eyelash Extension Brand?
There are two things to look for when it comes to finding the right eyelash extension brand: Swipe away all of those cheap lash brands that can irritate your eyes and cause breakouts! We're talking about lousy makeup, not bad people; however, there are plenty of companies out there with horrible ingredients (which also means terrible lashes) like coal tar dyes or lead. Make sure you will never find these harmful ingredients on any eyelashes you purchase! But let's say you do find a set you love, but is it really yours after eight weeks? A lot of ladies have been complaining because their lashes have started falling out
4. Don't forget about the price!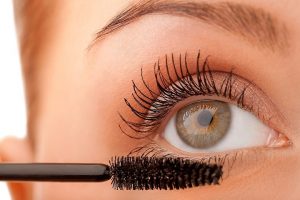 Check out eyelash extension prices and see if it's something you can afford before committing. Remember, you pay for what you get, so don't go cheap because you will end up having to replace them more often. When you do finally get them, make sure you get some amazing eyelashes.
Also, it's important to consider how much the lashes cost. Nowadays, eyelash extensions are considered a luxury item, not unlike buying expensive jeans or shoes. That means you need to be willing to pay for good quality because you're basically investing in them! The better the quality of your lash extensions, the longer they'll last, and that has an impact on how often you'll need to get touch-ups done (the average life span of lashes is approximately three weeks). It's important to consider what brand of eyelashes to go with because if they are too cheap, then there's a pretty big chance they will fall out quickly. On the other hand, spending hundreds on extensions isn't exactly practical, so if possible, try and find somewhere that offers quality lashes for a reasonable price.
5. Consider your needs!
Think about how much time it takes for you to apply lashes every single day – and decide if it will be worth it in the long run. If you're someone who likes change and has a busy life, lash extensions may not be ideal for YOU at this point in your life, so keep that in mind when choosing brands and types of eyelashes.  So choose wisely because lashes aren't just one size fits all!"
6. It Is As Much About The Brand As It Is About Size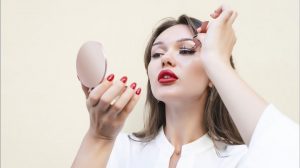 Another common issue is that the lash artist applied lashes that are simply too long for your eye shape, which can cause them to fall out at an accelerated rate. Typically, eyelashes should only be about half of the width of your actual lashes, so they blend in more naturally with your natural ones. If you have got extensions three times wider than your own lashes, then it will look very obvious and unnatural once they start falling out. This is why it can be essential to research what brands of eyelash extensions are popular among celebrities and ask your extension artist if they will use that brand on you before you go ahead with an appointment.
7. The Type Of Lashes Determine The Brand
Eyelash brands also vary depending on the type of lash you're looking to get. It would be best to consider what style of lashes would be best suited for your eyelashes and lifestyle. Some people swear by strip lashes, while others will only wear individual eyelashes because they feel more comfortable with them.  Both types of lashes have their pros and cons, so it is up to the wearer to decide which would suit them best.
8. Choose Your Eyelashes Only After Exploring All Options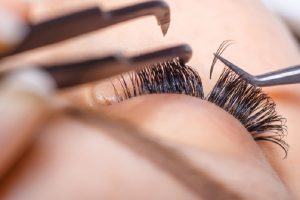 There are two different kinds of lash extensions: synthetic and mink. These lashes are made out of other materials, so it's essential to know which lash brand is right for you.
– Synthetic eyelash extensions
These are best for those who want a bolder look, as synthetic eyelash extensions can be layered very thickly without compromising durability. They also blend well with the natural lashes, and because they can be applied thicker than mink ones, this helps to create that dense, voluminous look. However, these lashes do not last as long as mink ones and cannot compare when it comes to lightness and softness! If you're just itching for length and thickness though, these might work for you, but if you're looking for length and thickness, then maybe it's time to switch to mink lash extensions!
– Mink eyelash extensions
These are perfect for those looking for a natural look. The hair is much softer and lighter than synthetic lashes, so they provide a more subtle look that you can wear every day if you prefer. These lashes are also extremely durable and last four times as long as synthetics. What's great about these lashes is that they blend in perfectly with your own lashes making them very natural-looking. If you're going to opt for a less dramatic lash extension, then take a chance with mink ones because their length might not be as much as the synthetic ones, but the level of softness matches up pretty well! On top of that, it makes your everyday routine easier since their lack of weight will be much less noticeable.
9. Go Natural For Simple Yet Elegant Look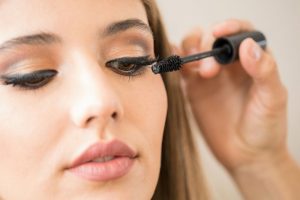 Natural silk lashes are also a great choice because they are just as natural-looking as mink lashes but still have that extra little bit of volume that synthetic ones lack. Although these lashes are extremely expensive so if you don't feel like investing in the whole set, it's probably best to go for another alternative instead. But, keep in mind these lashes are so lightweight and comfortable that you won't even remember they're there! Suppose you do want to spend a fortune on your eyelashes. In that case, we recommend starting off with an investment pair which is typically the more expensive lash formula found on most sets of eyelash extensions. Generally speaking, eyelash extensions are made out of either synthetic fibers or natural hairs. Synthetic fibers are fantastic for those who want a little more volume and length but lack real human hairs' shine and natural look.
On the other hand, natural eyelash extensions are typically used by those who want to avoid harsh chemicals and achieve their desired lash look without having to pay an arm and a leg! They pretty much work just like synthetic ones, but there is one big difference between the two. Natural eyelash extensions are hand-sewn onto each individual lash, meaning that they are better able to hold their curl for more extended periods of time. They also tend to offer more volume because there aren't any gaps that allow lashes to sag or fall out. The one downfall would be that natural eyelash extensions only last about three weeks before curling back up and falling off (unlike synthetic ones, which can last much longer).
10. Wait! You Also Have To Consider Their Weight
Another critical thing to consider when looking for eyelash extensions is their weight. The average weight of an individual eyelash is about three milligrams. If your natural eyelashes are on the lighter side, then you want to opt for an eyelash extension brand that weighs less than three milligrams. This may be difficult because some manufacturers don't list the actual weight of their extensions (which would make it harder for consumers like yourself). So what you can do instead is go by the width of the eyelash extension. If it's wider, the chances are that it weighs more than three milligrams.