Your home is a true reflection of you. The way you decorate it and transform it, according to your own taste and needs, speaks a lot about your personality. While decorating homes, rugs have the capability to stand out on any interior by giving a whole new different dimension to any space of your home. Adding rugs, especially if you have an open concept home and have larger areas covering hard flooring, would definitely pull the entire look of your home interior together.
Despite using them as floor coverings to accentuate ground spaces, there are so many other ways in which they are being used, mainly to style homes uniquely. In this post, we'll explore the most creative ways to add them to your home.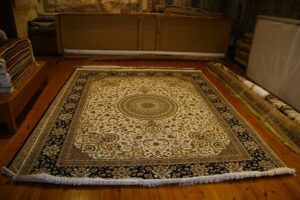 Use in different spaces
The use of rugs doesn't end in living rooms. You can use them to define other spaces of your home such as kitchen, dining, and bedroom areas. Styling your home with rugs will create a homely and cozy environment in the entire home, instead of creating in one place. Professionals at Samad.com suggest that while you choose rugs for different spaces, it's important you pay attention to its size, shape, and color. Your rug will feel out of place if it doesn't naturally blend with the areas where it is being used.
Hang on walls
Instead of hanging a painting on walls, give your wall a different kind of touch by using rugs on it. With so many contemporary, handwoven, and vintage designs in the market, these are certain to grab the eyeballs while adding warmth to your interior.  One of the great ways to display them is to hang them behind your sofa or bed.
Layering game
The game of layering can literally transform your home if used rightly. It can also be an affordable alternative for many. To pull off this style, you need to buy a neutral color rug or neutral jute rug in a bigger size and place a statement rug over it. One of the go to styles to make this happen is to opt for rugs with circular shapes to be placed over the bigger-sized rugs.
Go neutral
Sometimes, the simple decor looks best. If your home style is inspired from a bohemian, earthy, or organic theme, you might go for rugs of neutral colors, or texture as they will pull the whole theme together. In addition, they also go with these other themes. Whichever rug you choose, make sure it compliments the space where it is used.
Throw it on sofa
Rugs can be used on the sofa too. Place a wool rug on your sofa and it will give an expensive and stylish look to your living room. Without a doubt, you will love sitting on your sofa with a sheepskin rug under your hands.
Rugs have become an important part of home decor. You can bring a fresh feel to your home and it's surroundings by adopting these unique ways when it comes to styling homes with rugs.