Evil on The Screen
It was one of those evenings. The kind of night you want to Netflix and chill after longs weeks of grafting with zero time for leisure. After flipping through a myriad of viewing recommendations, a narration grips you. You can't shake it off. 10 minutes into the viewing, you wish you hadn't started. But again, you can't stop. There's evil on this screen. A cocktail of sorrow, anguish, and anger is now coursing through your veins. The emotions are in sync with the beating of your heart, and they tug ceaselessly. The boy's brutalised body on screen is hard to reconcile with the sweet smiling face you saw a few seconds earlier. It's not easy viewing, but it is compelling.
Again, it was one of those evenings. The kind of night you wished you had slept instead of turning on the TV. Sleep flees on these kind nights because somewhere in the world, someone had violently slain the sleep of innocence. This is the tragic case of Gabriel Fernandez.
Meet Gabriel
Gabriel Fernandez was an 8-year-old boy, the last of three children who suffered severe neglect, and an unbelievable amount of abuse. Eventually, he died from injuries associated with torture in May 2013. Every child abuse case and every child death is horrific. In the Netflix docuseries, 'The Trials of Gabriel Fernandez ', the blow you feel is delt by Gabriel's mother (Pearl Fernandez) and her boyfriend (Isauro Aguirre). The couple never loved him. His tragedy was compounded by a severe failure on the authorities' part too. Young
Gabriel had never known the love of his mother since he was born. He was given up as soon as he was delivered. As the trial proceeded, it was clear she wanted him back to claim state funds. After 8 years of love with other family members, it took just 8 months for Pearl Fernandez and Isauro Aguirre to beat the life out of sweet Gabriel. Sadly, Gabriel Fernandez is no longer on this earth, but how are his elder siblings faring, and where are they now?
The Fernandez Siblings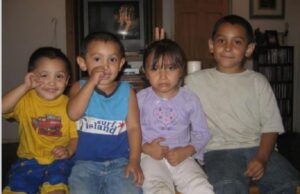 Virginia and Ezequiel are the elder siblings to Gabriel Fernandez who witnessed the brutality dished to their brother. These kids lived in fear. Pearl Fernandez and Isauro Aguirre told these kids to lie to the authorities and clean up their younger brother's blood when investigations started. They also endured the trauma of testifying at the trial of their mother's boyfriend. They were teenagers at the time.
Virginia, 14 and Ezequiel, 16 after witnessing their younger brother's numbing tragedy were compelled to do what no child their age should have to. They decided to accept their mother's plea deal to avoid facing her in the trial. This meant she got a life sentence with no parole. Isauro Aguirre got the death penalty, capital punishment active in the state of California at the time. It is worth noting that the then-governor suspended all death sentences on moral grounds. Gabriel's siblings suffered mentally and will sadly live with this mental anguish for the rest of their lives regardless of where they are and how hard they try to move on.
How to move on
How do you move on from such a horrifying experience? Where do you go? Social services failed to act on the glaring ongoing and historical abuse of Gabriel Fernandez. There was a mix of system failures here ranging from the excessive workload of social service workers, inefficient deployment of staff, the secrecy of the Department for Child and Family Services (DCFS) and limited powers are given to teachers and other stakeholders to act. If one were to stretch the root cause of this failure further, one would inadvertently come knocking on the door of state politics and policies. One would reach the high places where priorities are set for everything else that cascades on ordinary citizens.
In fairness, it is also people within the system that help fix one that is broken, just like white blood cells do in a body fighting illness. This section of the system has led to the formation of the 'Blue Ribbon Commission'. This commission empowers workers within the system with improved coordination and power to act where there was previously none. Ordinarily, social services would step in to care for the Fernandez' siblings. A refusal of this offer would be wholly justified seeing how their 8-year-old brother slipped through the cracks. The question remains, though. Where are the Fernandez siblings now?  What's happened to them?
A Safe Harbour
At the end of the docuseries, the whereabouts of the siblings were undisclosed. Understandably so. Gabriel Fernandez's tragedy has been a little over 7 years now. It's been revealed according to ABC owned KGO-TV that the siblings found a "safe harbour" with their uncle, Chris Contreras. They now know what love feels like. They now understand what family life ought to be like. They now know but can't feel it nor enjoy it. Chris Contreras said they don't let themselves have fun even if they tried. They could require a lifetime of therapy. They did the best they could for their brother at the time. The role Pearl and Isaurro made them play while Gabriel was alive has got them stamped them with guilt that will be hard to get rid of. These kids don't deserve this. No child does.
It is hard to tell how Virginia and Ezequiel will proceed, years after Gabriel's tragedy. One thing is, however, absolute, we must respect their privacy and allow them to heal. One can be optimistic that they are with family members that care for them and love them, the Fernandez siblings can make progress. Los Angeles County has also made some changes, and lessons have been learned. Gabriel's community and the world were stung and shaken by this avoidable tragedy.
We All Have A Role
There is wisdom in the  African proverb that says "It takes a village to raise a child". We all have a role to play in children's safety and well-being in our respective communities. Other children in the society we live in are friends with our kids. If we want what is best for our kids, we must want what is best for other children. There's another thing we can learn from Gabriel's tragedy. It is that the safety of every kid in the community is our collective responsibility.
It is not enough to turn a blind eye nor claim to be powerless if we suspect a child is suffering abuse. Though the recent pandemic has enforced high levels of isolation, the absence of social interaction like we used to have has highlighted how much we value each other. We miss the touch, the smile, and the presence of people around us. This is what it is to be human. Make a call, knock on the door, and ask questions. It's okay to be curious about someone's well being. It's not okay to pretend they are when they're obviously not. I'm a father of 3 kids, and my eldest daughter is 8 years old. I would hate to think that my kids won't be saved if anything happened to my wife or me. We can be the Guardian Angel a kid on our street is praying for. I can't put in words how much the story of young Gabriel has affected me. But I can say this; I am now much more vigilant.
If you suspect child abuse around where you live, call these lines –
United Kingdom: NSPCC UK – (+044) 0808 800 5000 | www.nspcc.org.uk
United States & Canada: Childhlep – (1-800) 422-4453 | www.childhelp.org
You May Also Like: