Are you trying to figure out the best way to organize your baby's room? Babies might be small, but they come with lots of stuff, like diapers, clothes, toys, and lots of blankets. Having the right storage means ensuring your little one's nursery remains a calm, restful place for them. If you're looking for the best nursery shelves ideas for your space, you'll find quite a few to choose from. 
Whether going with nursery wall shelves, a freestanding shelf unit, floating shelves, or something else, there's a shelf style that perfectly matches your baby's nursery. You'll also find valuable tips for styling nursery shelves and repurposing items, like retrofitting an old nursery wardrobe with shelves.
Read more:  20 Unique Nursery Wallpaper Ideas To Create A Unique Room For Your Baby
How Many Types of Nursery Shelves Are There?
When it comes to shelves, there are typically five main types of shelving that you can reimagine into countless possibilities. The primary shelving types are;
Floating shelves,

Open shelving,

Hidden or closed storage,

Freestanding shelves,

Corner shelves.
Additionally, these shelf types can feature either fixed or adjustable shelves.
Freestanding units are convenient and provide lots of storage if you have room. But wall shelves: nursery must-haves for small spaces. Check out these 50 different nursery shelving ideas to find the ones that will work best for you.
Floating Shelves for Nursery
1. Slim Floating Shelves for Books Nursery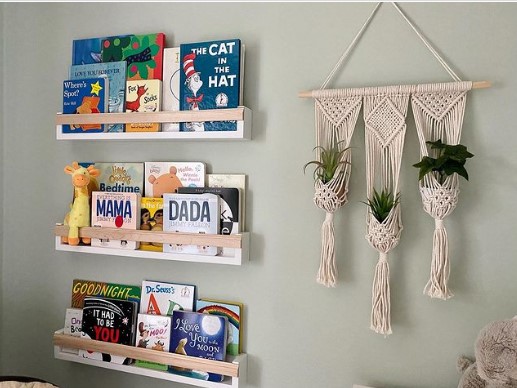 Reading books to babies is a major part of child development, so make sure to designate some shelving for books in the nursery. Use slim shelves like these, so kids can see the covers.
2. Nursery Shelves with Rail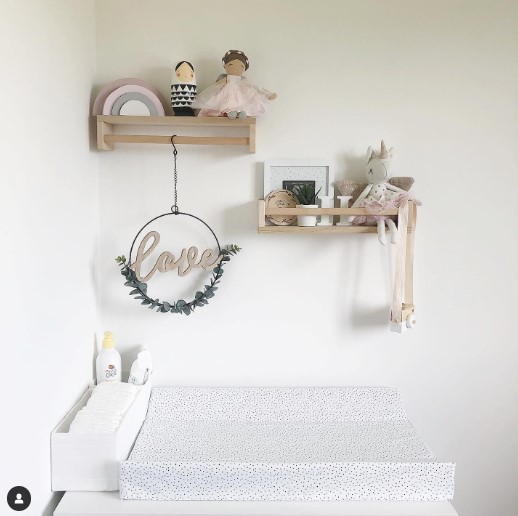 These shelves are great for essentials and decor. Hung one way keeps things from tipping but flip it, and you get nursery shelves with hanging rails.
3. Shelves with Rattan Details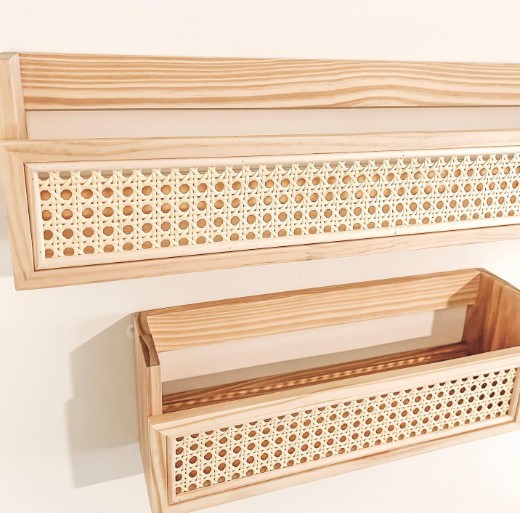 A natural rattan detail on the front of these shelves creates a relaxing, almost tropical feel for these pretty shelves.
4. White Nursery Shelves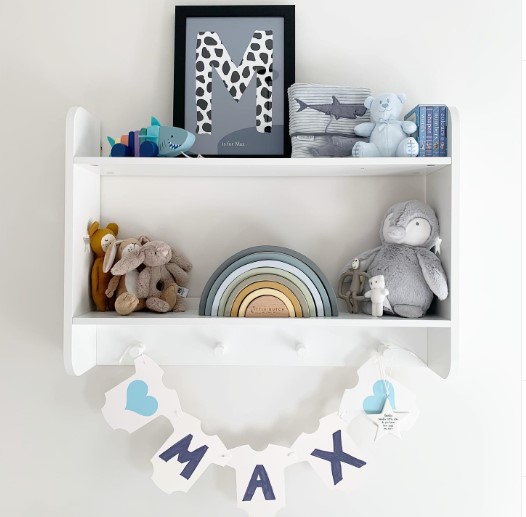 These double white wall shelves feature peg hooks for hanging additional items or artwork. Hooks are a great way to sneak in some extra storage without taking up more wall space.
5. Train Shelf
Shelves for nursery walls can take many forms. This train shelf is the perfect addition to a little boy's nursery, perfect for storing small toys and other items.
6. Chunky Natural Shelves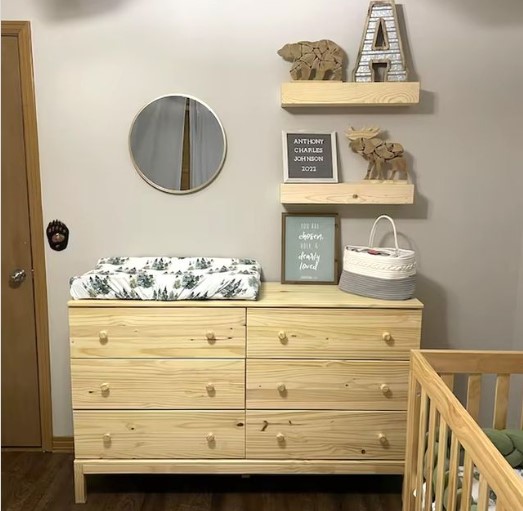 These big, chunky pine wood shelves give a substantial look to this nursery, balancing the matching furniture. If you're looking for a more rustic vibe, chunkier pieces work well.
7. Nursery Shelves: Wood and Metal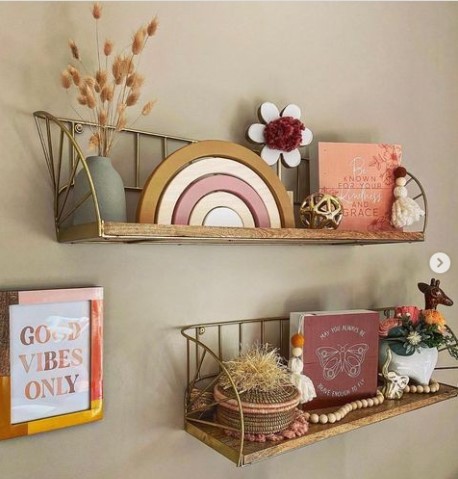 Mixing materials like these shelves do is a great way to soften a more rustic look. You can also use the idea to add a modern or vintage flair to your nursery. 
8. Bright and Colorful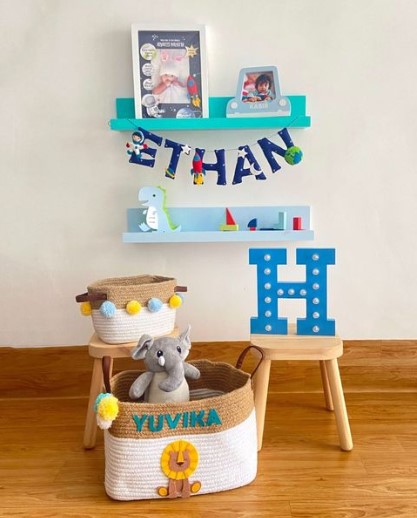 Paint wooden shelves in colors that complement your nursery design to add some vibrancy to the space. We love these bright turquoise ones.
9. Sleek and Simple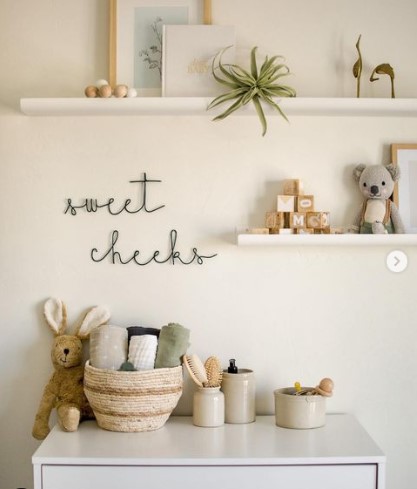 Let the accessories and items you place on the shelves stand out when you use simple, straightforward shelves like these. Sometimes, simple is the best way to go when you're planning out your nursery design.
10. Floating Cloud Shelves for Nursery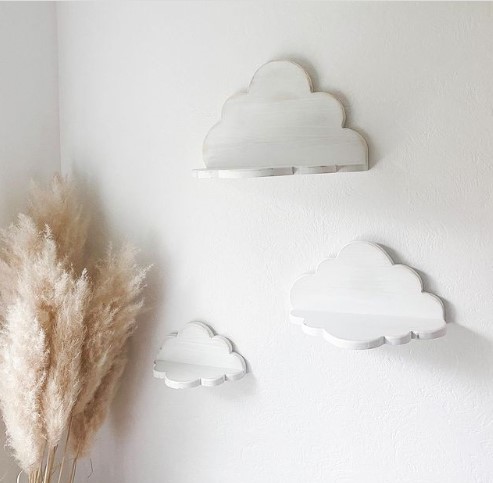 Floating shelves, nursery vibes, and a whimsical touch is everything you get with these adorable nursery cloud shelves. They'd look especially great against a light blue wall.
If you need more cloud shelves nursery design ideas, then let us know in the comment section or contact us via email. Hope we can help you out in this regard.
Open Shelving Ideas for Nursery
Here is a list of 10 nursery shelf ideas for open shelving. I hope you will like these shelves for your nursery.
1. Recessed Shelf Nook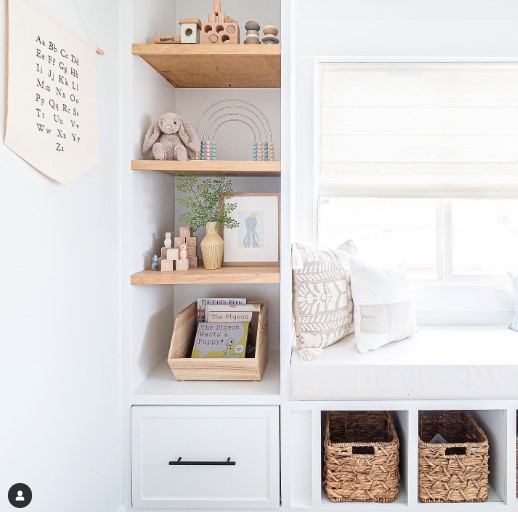 Recessed shelves like these provide excellent storage while also staying somewhat hidden from view. They also give a built-in, high-end look to the space.
2. Baby Nursery Shelves with Hooks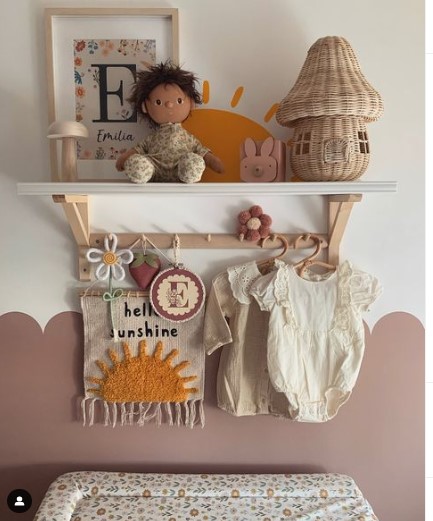 This cute shelf features hooks along the bottom for hanging various items or toys. Hooks are a great way to get extra storage out of a shelf.
3. Pegboard Backdrop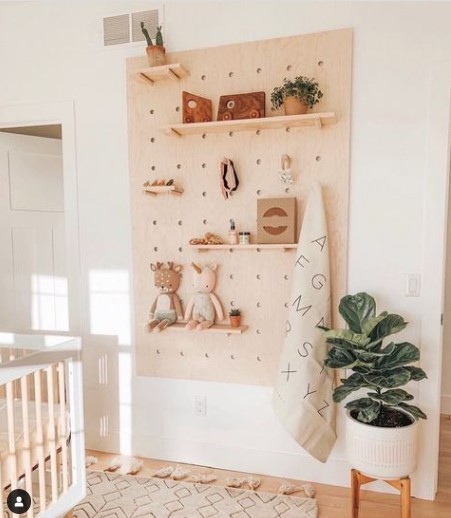 Here's a clever design that makes a few floating shelves become a focal point in the room, thanks to a pegboard backdrop.
4. Tiered Hanging Nursery Shelves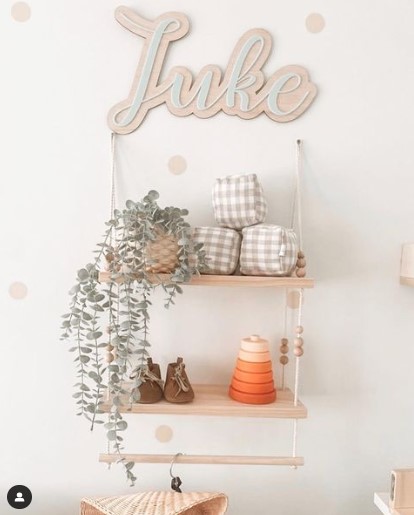 These boho nursery shelves are so cute for a chic nursery design, adding sweet and sophisticated style. The tiered design gives you multiple storage surfaces within one hanging unit.
5. Whimsical Round Shelf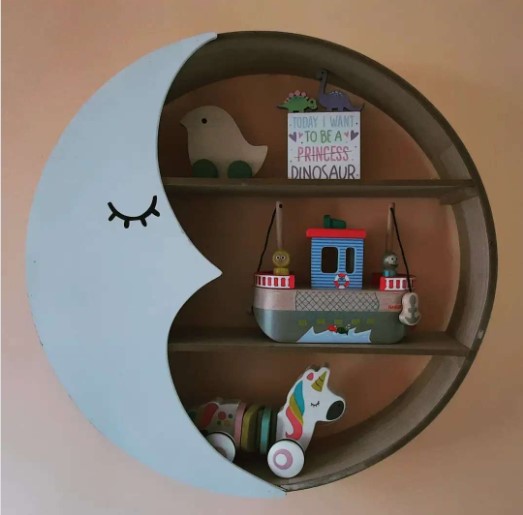 The round design and moon detail on these shelves are precious for a nursery space. It also makes a great art piece, too.
6. Airplane Wall Shelves for Baby Nursery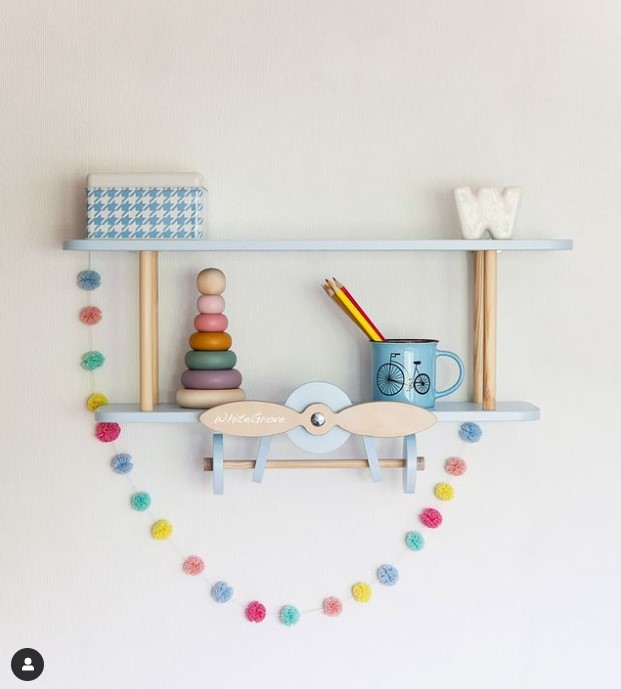 How cute is this airplane shelf? It's the perfect way to mesh storage with decor in your baby's nursery. it's perfect for a transportation theme, aircraft, or similar design schemes.
7. Honeycomb Shelves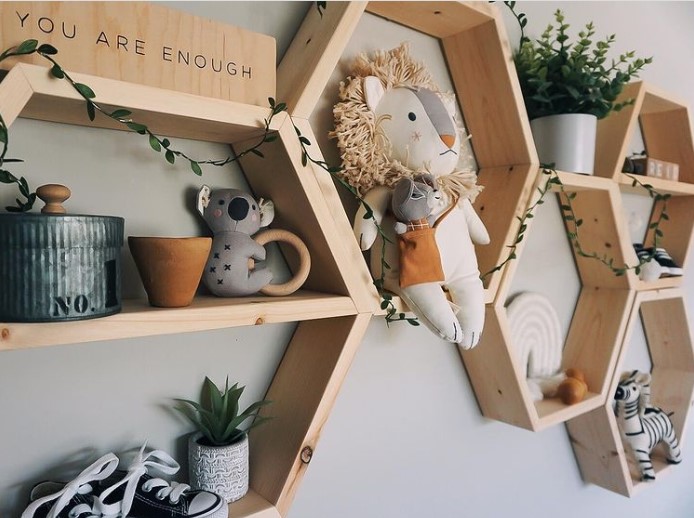 These honeycomb hexagon shelves provide storage and display space, while adding visual interest to the room.  
8. Hot Air Balloon Shelf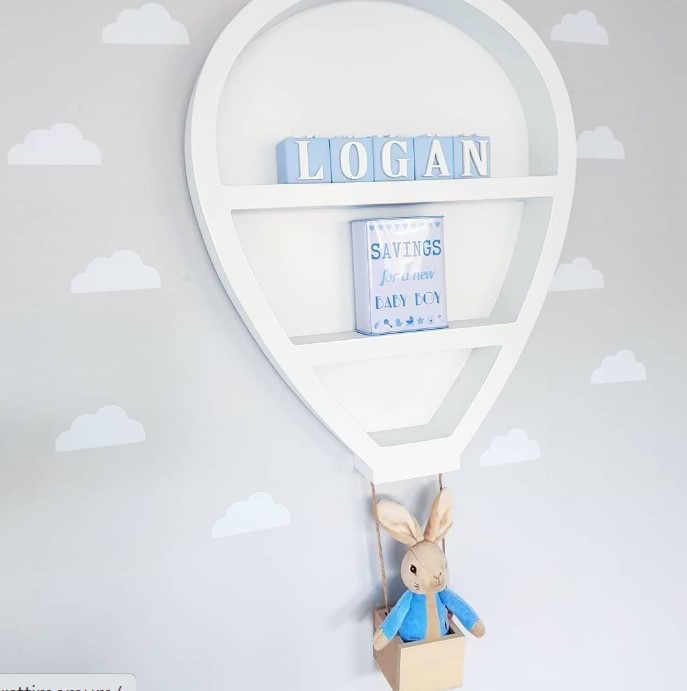 Hot air balloons are a popular nursery theme, and this shelf is a perfect match. It would look great against a light blue wall and mixed in with floating cloud shelves.
9. Built-In Beauty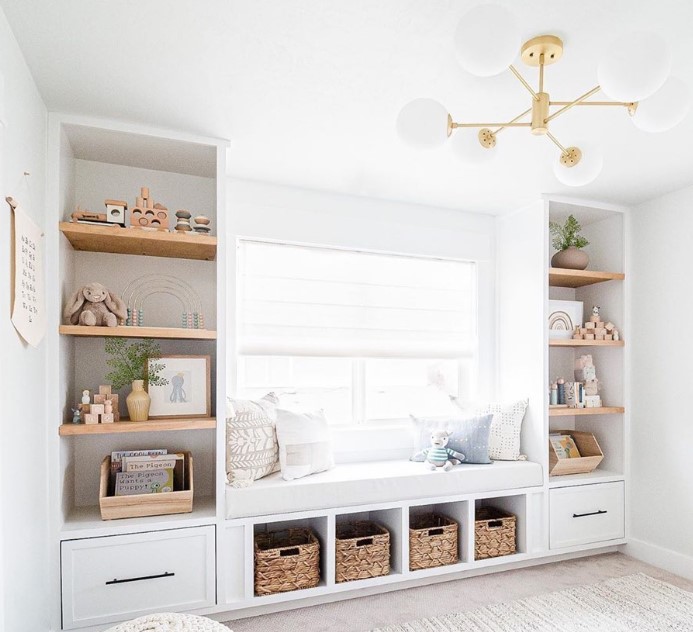 Built-in shelves like those undoubtedly give any room an instant upgrade. They also allow you to mix and match storage options and hide away things you don't want out in the open.
10. Classic Nursery Wall Shelf Ideas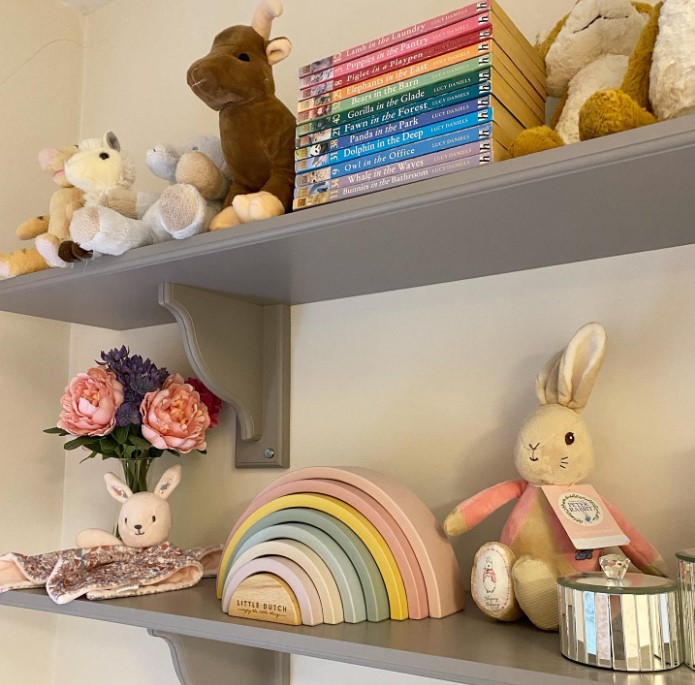 Never underestimate the appeal of timeless and classic style, like these nursery wall shelves. You can find shelves like this in a variety of design styles and colors.
Hidden or Closed Storage Nursery Shelf Ideas
1. Built-In Armoire Shelves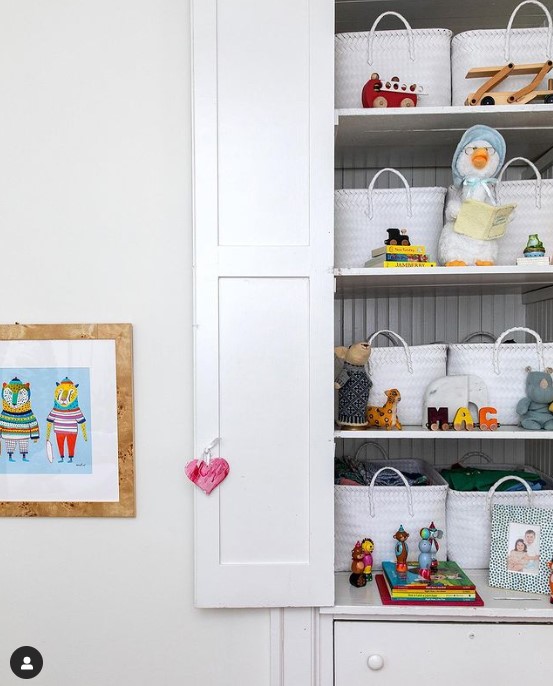 This built-in nursery wardrobe with shelves hides shelving that you can use for clothes, books, shoes, toys, and other odds and ends.
2. Hidden in a Closet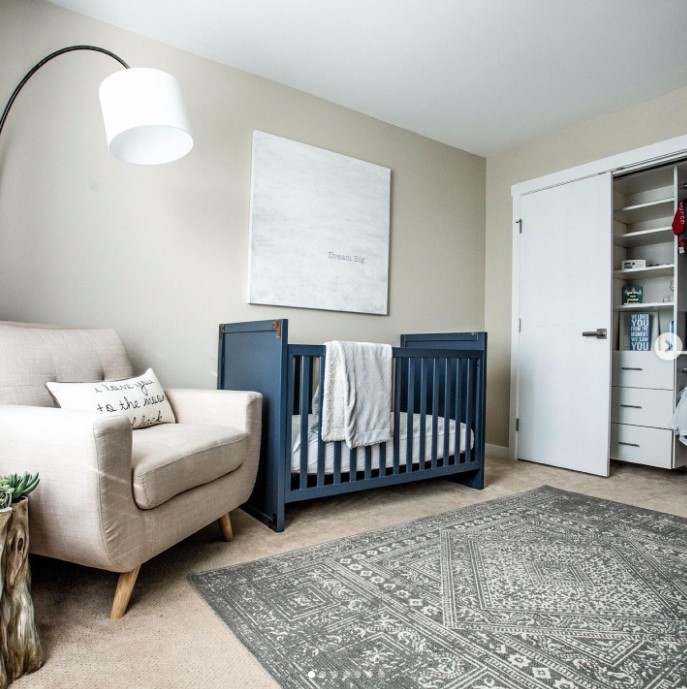 If your nursery has a closet, then the ultimate hidden or closed storage would be shelves behind the closet doors. You can install custom shelving like these or even put a freestanding unit in the closet.
3. Simple and Charming Nursery Storage Shelves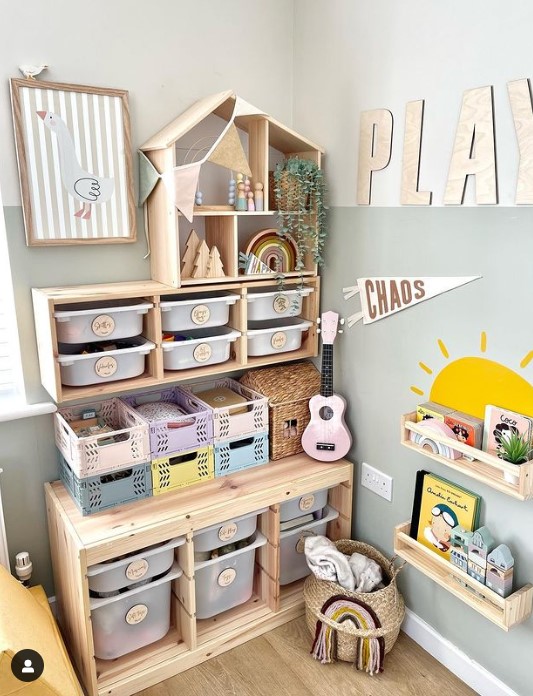 These simple, natural shelves provide ample storage opportunities with slide-out drawers and baskets. They're the perfect fit for a forest theme if you're looking for options for woodland nursery shelves.
4. Open and Hidden Storage Combo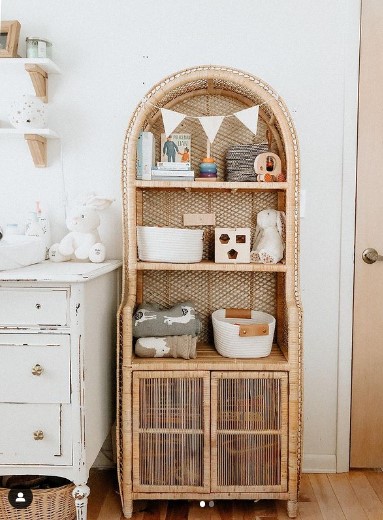 Get inspired by these shelves to blend together your open and closed storage spaces. You can have the best of both worlds.
5. Decorative Baskets Nursery Storage Shelf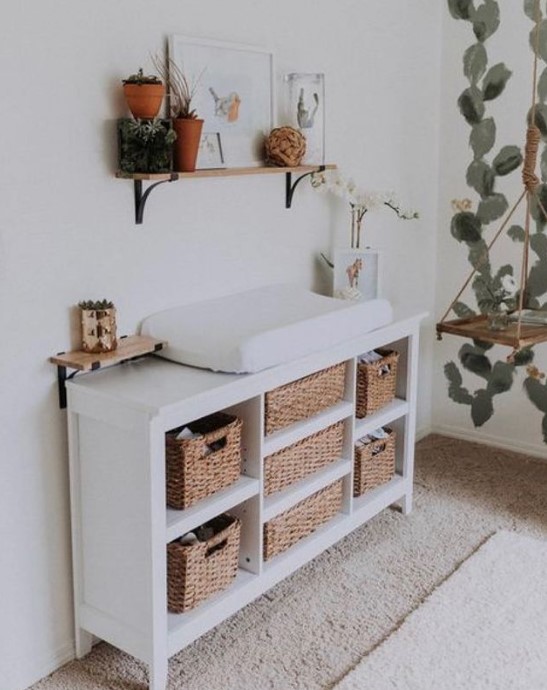 Using decorative baskets on shelves is a great way to turn open shelving into closed storage. Plus, it makes it easy to swap out items and change up your storage without having to rearrange shelving.
6. Fantastic Nursery Closet Shelving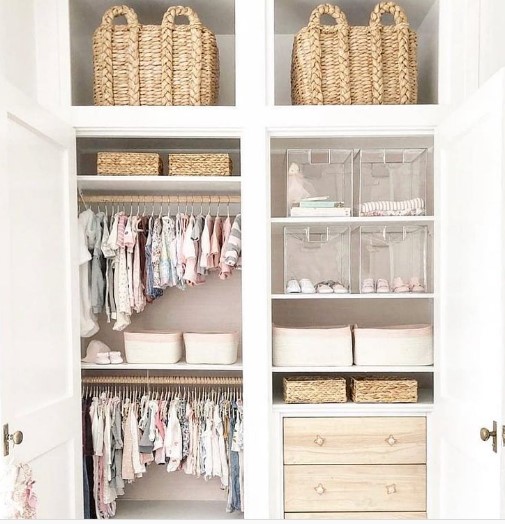 Nothing beats a customized closet complete with all the shelving you could ever need, like this one. Plus, you can design it for your unique storage needs.
7. Standing Wardrobe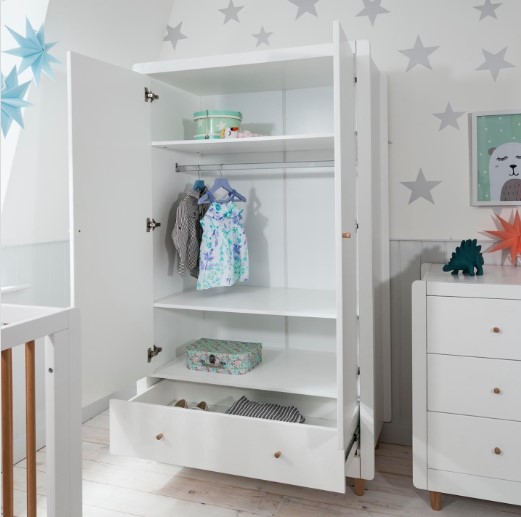 Prefer to not hang things on walls or you don't have a large nursery closet? A freestanding wardrobe like this one is an excellent way to go. Plus, it provides tons of storage space.
8. Wall of Storage and Shelves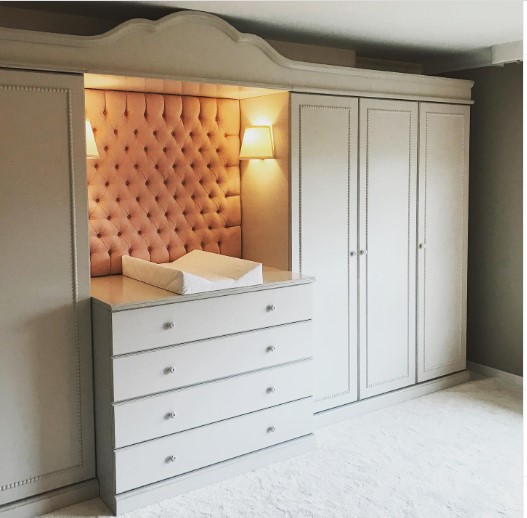 You'll never run out of storage if you go with an idea like these wall-to-wall closed shelves. Even the changing table is built right into the unit.
9. Slightly See Through (Closed storage shelf)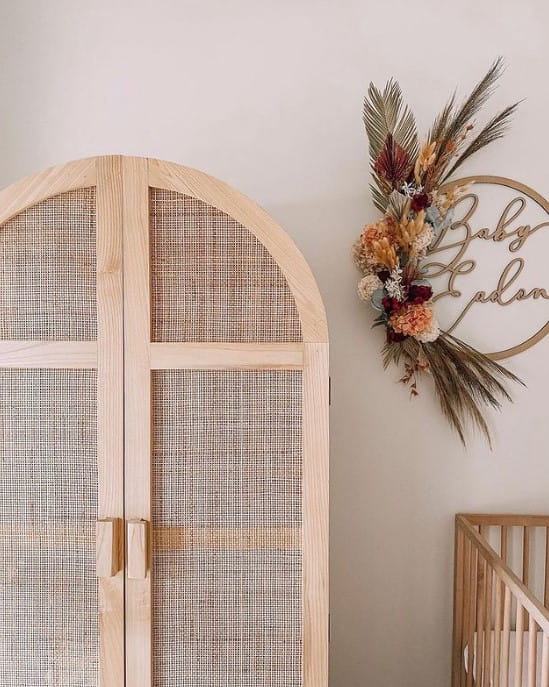 Want the look of closed storage shelf so you can hide away certain things but not have a heavy feeling? Then consider some shelves like these, with a slightly see-through front.
10. Hideaway House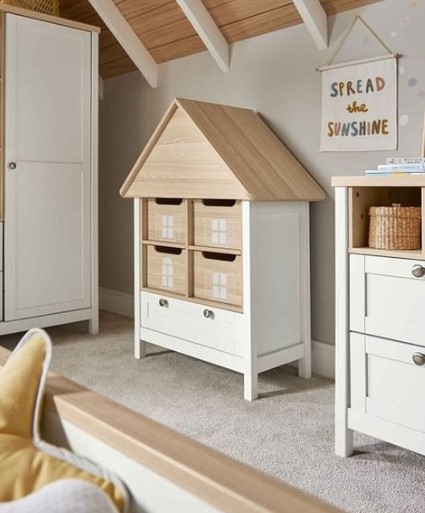 This sweet dollhouse-inspired nursery shelving unit comes with drawers and cubby boxes to keep things tucked away.
Freestanding Nursery Shelves Ideas
1. Ladder Style Nursery Book shelving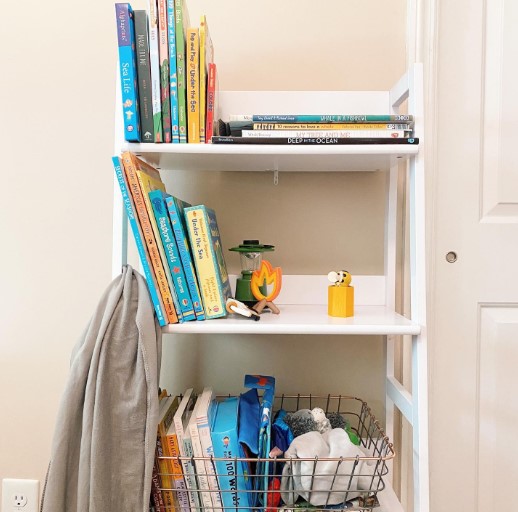 Ladder-style nursery storage shelves like this are great for smaller nurseries. It takes up less room visually, helping give the illusion of more space.
2. Bamboo and Rattan Shelf Unit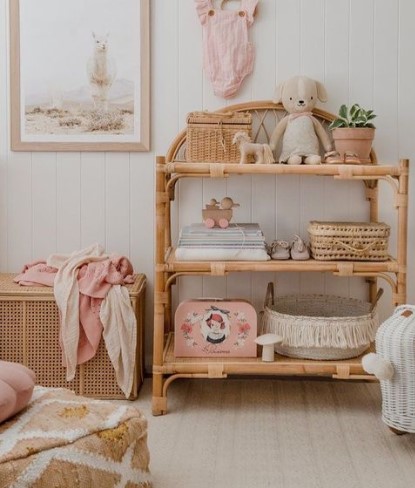 This rattan and bamboo shelf would look great in a natural or rustic space. It would also work well in an island-themed nursery or if you want a more tropical vibe.
3. Colorful Contrast (DIY nursery shelves)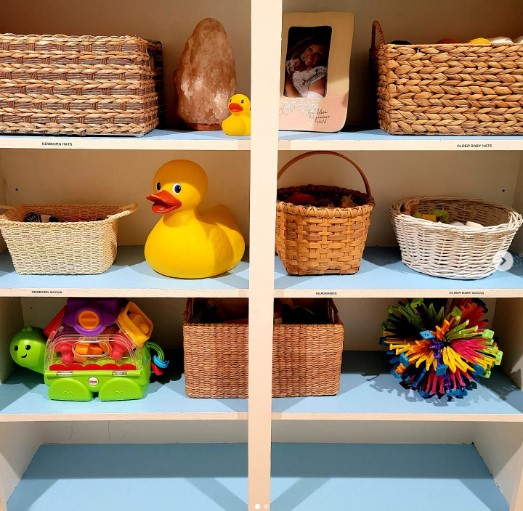 These DIY nursery shelves provide just the right touch with a splash of color on the shelf tops. You can turn basic shelving into personalized, unique furniture pieces with just a little elbow grease and imagination.
4. Classic Cubbies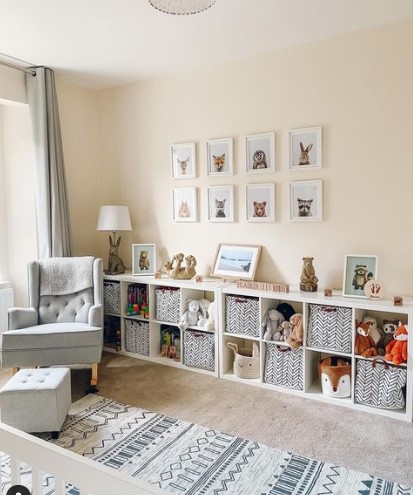 Cubby shelves like these are an easy way to add lots of storage to a space and keep things out of sight. You can also organize similar items into each cubby for quick access.
5. Modern Storage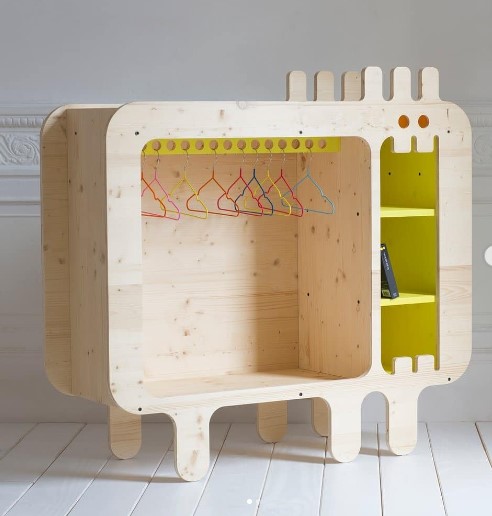 This quirky, modern shelf adds a super fun touch to the space. It's great for a more contemporary nursery design while still maintaining a fun, whimsical vibe that you would expect in a baby's room.
6. Dollhouse Shelf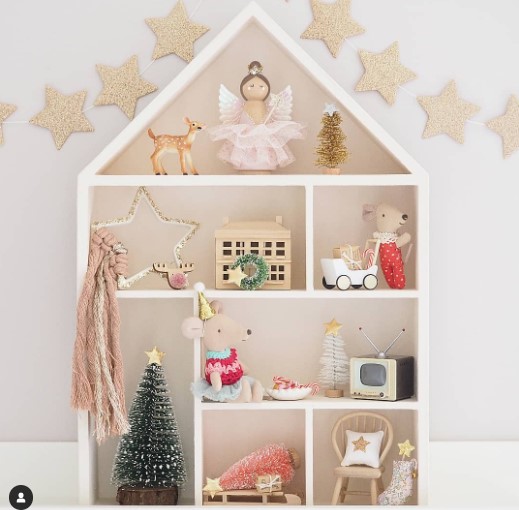 A classic dollhouse shelf like this one is an excellent way to display small treasures. You can paint it in a variety of colors to fit with your nursery's palette or keep it white to let your display items take the main focus.
7.

Nursery Book Shelving for Book Display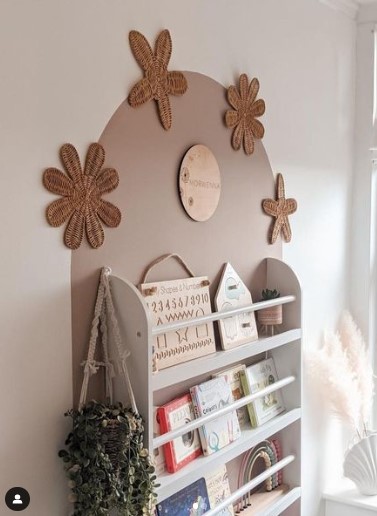 A larger, freestanding slim shelf like this one is perfect for displaying books facing forward. If you plan to keep a lot of books in your baby nursery, then a larger shelf like this one is just the ticket.
8. Simple and Natural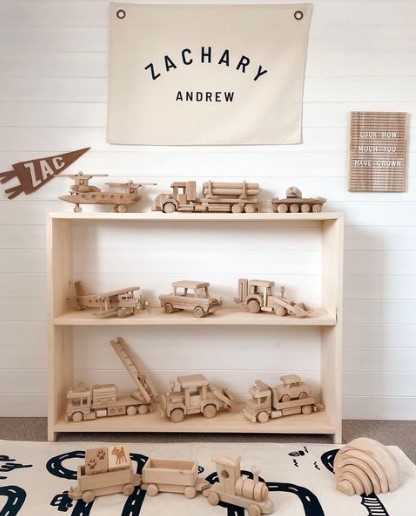 If you want to keep things natural, this unfinished look is a great way to go. It provides a clean, sleek look that works well in a modern space.
9. Pretty In Pink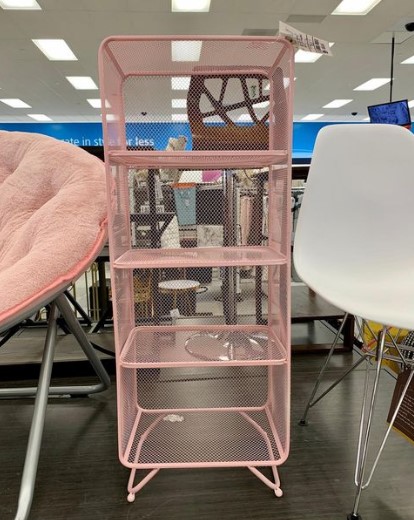 The metal and mesh design of this shelf provides a modern look, while the pink keeps things soft. It also has a bit of a retro vibe to it if you plan to give your nursery a more vintage feel.
10. Multiple Depths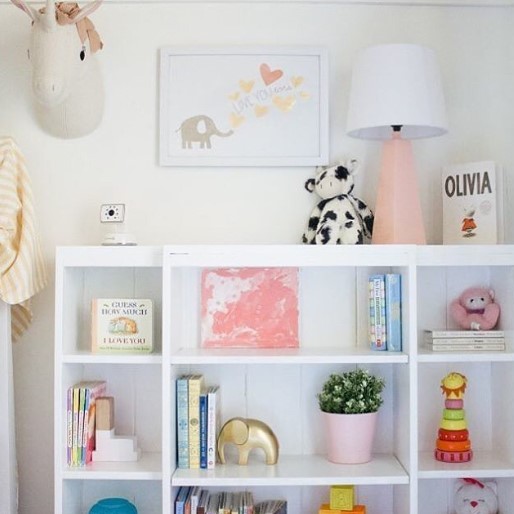 The various depths of the shelves in this unit add visual interest to the piece. Plus, the deeper shelves allow you to have more versatility with the items you chose to display and store on them.
Corner Shelving Ideas for Small Nursery
1. Floating Corner Shelves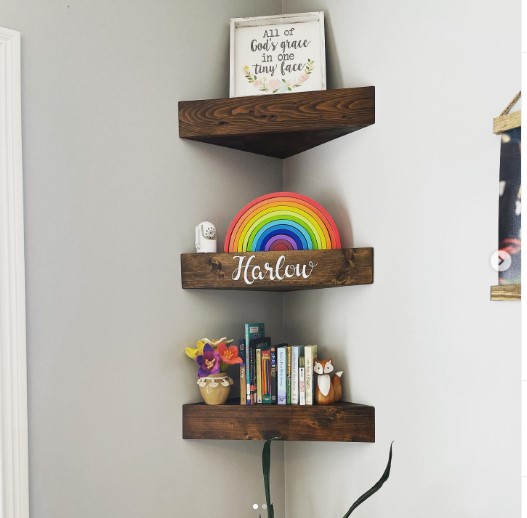 Installing floating corner shelves is a great way to snag some extra storage space in your nursery. They're the perfect way to make use of otherwise wasted space.
2. Freestanding Corner Rattan Shelves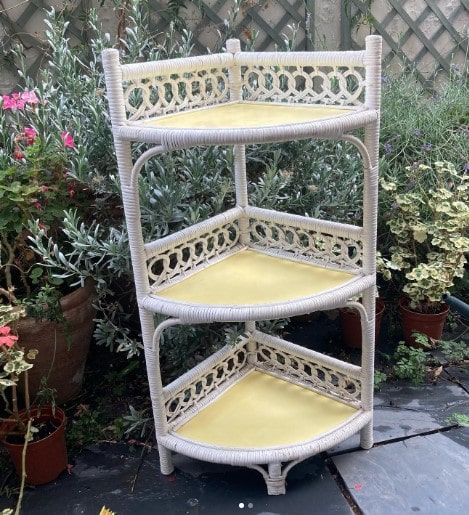 These plant nursery shelves also make some great shelves for your baby's room. You can find some great nursery furniture in unexpected places.
3. Hanging Boho Style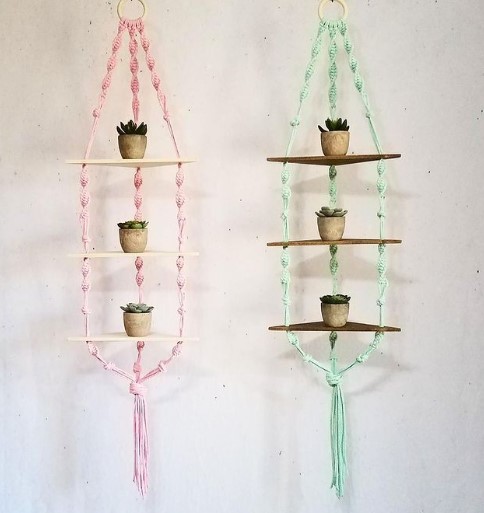 These hanging corner shelves are cute, chic, and airy looking. They also provide a unique way to display decor without looking too heavy and overbearing or taking up wall space.
4. Pretty Paper Detail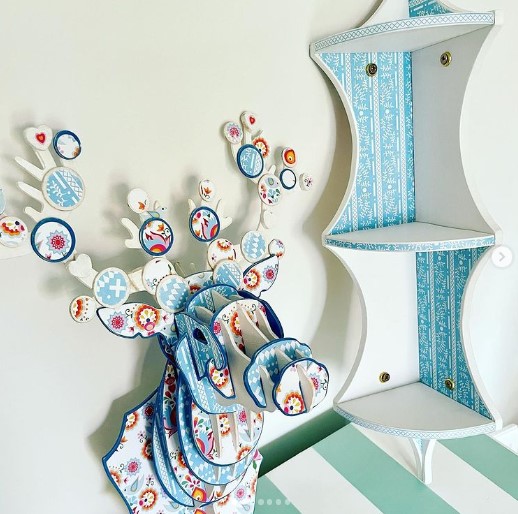 You can use adhesive-backed paper to add some fun detail to an otherwise plain corner shelf. Let your imagination soar when you're working with basic shelving, and you can come up with some unique pieces for your baby's room.
5. Clear Acrylic Shelves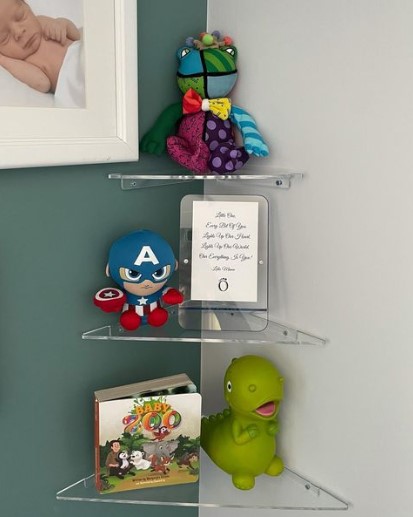 Don't want to draw attention to the shelves? These clear ones make sure your items stay the main focus.  They're also super easy to clean and maintain with just a quick swipe of a damp cloth.
6. Clean and White Corner Shelves for Nursery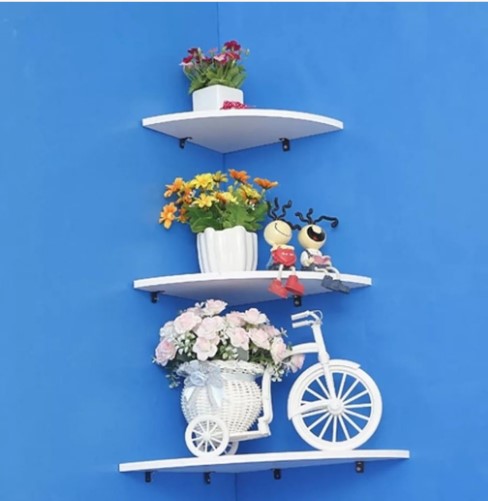 The curved edges of these white corner shelves provide a softer look and a little bit of extra surface area. You can find similar designs in a variety of colors if white doesn't fit with your overall look.
7. Lots of Storage Corner Shelf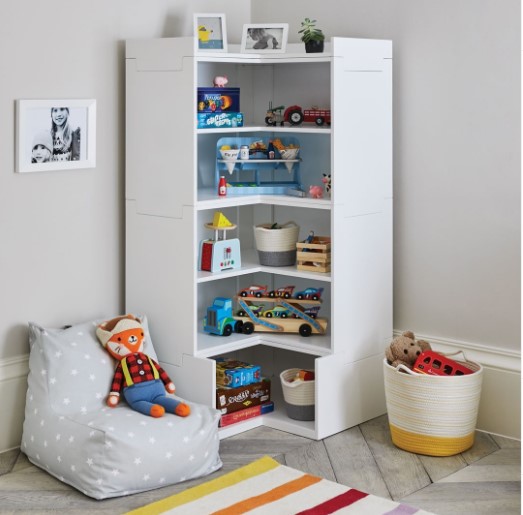 This freestanding corner shelf unit provides tons of storage and display space for all your nursery needs. This extra storage comes in handy when you need a place for essentials, toys, books, and clothing.
8. Multiple Pieces In One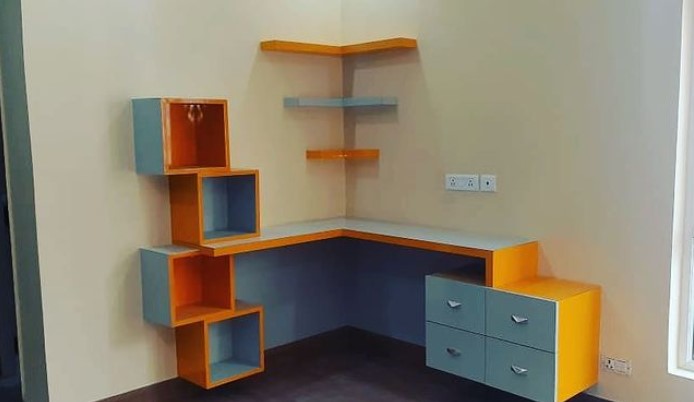 This piece is super fun and functional, with a desk, dresser, bookshelves, and more all in one cohesive unit. If you're working in a smaller space, a piece that serves multiple functions is an excellent way to go.
9. Create Your Own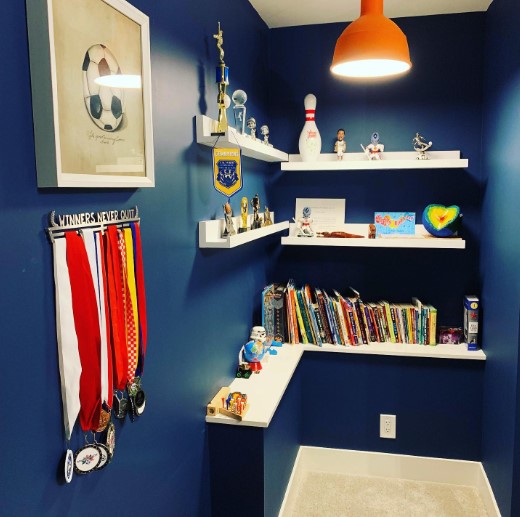 You can give the illusion of corner shelves by hanging regular shelves at staggered heights on each wall. The bottom one is a continual wrap-around shelf that helps tie the whole look together.
10. Modern Movement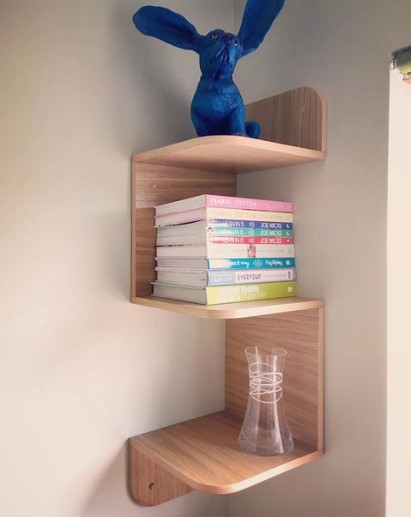 The modern lines of this shelf unit are seamless and sleek, perfect for a contemporary nursery. it's also a design that will grow with your child, working just as well in a big kid's room.
FAQs
1. What to put on nursery shelves?
You can use nursery shelves to display accessories like pictures, plants, or other decorative items. You can also use them for storage for books, toys, clothing, and baby essentials, like wipes and diapers. 
If it's things you don't want to see, opt for hidden storage. Save open shelving for books, toys, decor, and things you want within easy reach.
2. How high should shelves be in a nursery?
If hanging wall shelves in a nursery, the height depends on what you plan to store on them. 
If you want things within eye level and reach of your child as they become a toddler, hang shelves 16 inches from the floor. For decor shelves, hang at average eye level for an adult to keep out of reach. 
3. How high to hang floating shelves in nursery?
Hang floating shelves should be 16 inches high from the floor in a nursery.
4. How do you hang a bookshelf in a nursery?
You can hang a bookshelf in a variety of ways in a nursery. It should come with the necessary hardware if it's a wall-mounted unit. Otherwise, you'll need to use strong screws and anchors designed for your type of wall (i.e., plaster, drywall, wood, brick, etc.). 
It's important to make sure the shelves are secure. If it's a freestanding unit, install safety straps that attach it to the wall to prevent tipping.
5. Where do you put books in a nursery?
You can place books on a freestanding bookcase, floating shelves with rails, or even display them in cute baskets or bins. The covers should face outward for easy visibility, so look for slim shelves. You can even use PVC rain gutters to create some easy DIY floating bookshelves.
Conclusion
Hopefully, you now have tons of inspiration to find just the right storage for your baby's space. You can find excellent nursery furniture everywhere, and shopping online makes it super easy. Here are some great places to scope out nursery shelves: Ikea, Wayfair, Amazon, Pottery Barn Kids, and Rooms To Go Kids (just to name a few).